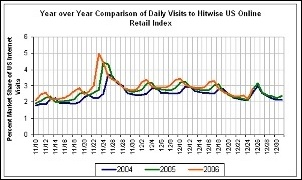 For the third holiday season in a row, the iPod has been the must-have Christmas gift
(PRWEB) December 29, 2006
The market share of visits to Zune.net, the site for downloading the music software for Microsoft's MP3 player showed an increase of 1,030 percent on December 25, 2006 versus the previous Monday (December 18, 2006). However, this strong initial performance was overshadowed by the iPod, as the market share of visits to the iTunes website increased by 1,222 percent in the same period, and outnumbered visits to Zune.net by 30 to 1.
"For the third holiday season in a row, the iPod has been the must-have Christmas gift," said Bill Tancer, general manager of global research at Hitwise. "Competitive offerings have not yet succeeded in capturing the attention of music listeners, and the surge in visits to the Apple Store shows that iPod owners are also engaged in filling and accessorizing their new devices."
The average daily increase in visits to the Hitwise Retail Index for the 2006 online holiday shopping season (Thanksgiving Day through the Thursday before Christmas) versus the same period in 2005 was 5.9 percent. The days with the largest individual increases over the same day in 2005 were Cyber Monday and Thanksgiving Day. Visits to the Retail 100 Index were up 13.2 percent on Monday, November 27, 2006 versus Monday, November 28, 2005 and up 11.8 percent on Thursday, November 23, 2006 versus Thursday November 24, 2005.
Online Holiday Shopping Update:
Visits Increased 6.2 Percent Last Week to Hitwise Retail 100 Index(2)
-- This week, visits to the websites within the Hitwise US Retail 100 Index were up 6.2 percent for the week ending December 23, 2006 versus the same week last year (December 24, 2005).
-- Amazon.com remained the most visited website within the Index last week, receiving 13.18 percent of visits among the Retail 100 Index. Walmart received the second-most visits with 9.13 percent.
-- CircuitCity.com and BestBuy.com received the biggest increases in visits from week to week with respective increases of 20.7 percent and 17.1 percent. Hallmark.com was the fastest moving website within the Index jumping 14 spots from 31 to 17, an increase in visits of 97 percent for the week ending December 23, 2006.
-- Nintendo DS was the top product search term sending visits to Shopping and Classifieds websites for last week. The product term 'ipod' moved back into the second spot followed by 'nintendo wii' and 'wii' among the most popular product searches for the one-week ending December 23, 2006.
About Hitwise
Hitwise is the leading online competitive intelligence service. Only Hitwise provides its 1,200 global clients with daily insights on how their customers interact with a broad range of competitive websites, and how their competitors use different tactics to attract online customers.
Since 1997, Hitwise has pioneered a unique, network-based approach to Internet measurement. Through relationships with ISPs around the world, Hitwise's patented methodology captures the anonymous online usage, search, and conversion behavior of 25 million Internet users. This unprecedented volume of Internet usage data is seamlessly integrated into our easy to use, web-based service, designed to help marketers better plan, implement, and report on a range of online marketing programs.
Hitwise is a privately held company headquartered in New York City and operates in the United States, United Kingdom, Australia, New Zealand, Hong Kong, and Singapore. More information about Hitwise is available at http://www.hitwise.com.
For up to date analysis of online trends and statistics, please visit the Hitwise Intelligence Analyst Weblogs at weblogs.hitwise.com and the Hitwise Data Center at http://www.hitwise.com/datacenter.
(1) Refers to visits to http://www.apple.com/itunes, not use of downloadable client application.
(2) The Hitwise US Retail 100 Index is comprised of the leading retail websites, but excludes websites from the following categories - auctions, classifieds, computer manufacturers, relationship sales, reward point collecting and home entertainment - music download, DVD and video game rental.
# # #