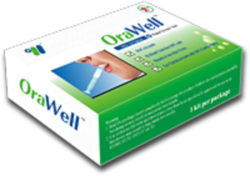 The leader in rapid HIV testing
(PRWEB) May 31, 2011
Since Orawell hit the market, many customers have declared the product more than satisfactory and are pleased with the results. Sales increased by 22% in the month of May. OrawellUSA believes that the change of season is responsible for the increase due to the phenomenon of people being more socially engaged during the warmer months. Secondly, we have had a rise in institutional sales to NGOs in Africa and the Middle East.
OrawellUSA offers a first-of-its kind product that allows you to test for HIV1&2 in the privacy of your home, and results are available within 10 minutes. There is no blood draw necessary, and there is no need to send to a lab and wait for results. The test provides customers with serenity in a more timely fashion, and the results remain completely confidential.
According to USAID.gov, over thirty-three million people are affected with HIV/AIDS worldwide. The US Center for Disease Control and Prevention states that over one million of these people are living in the United states, and approximately twenty percent of those infected are unaware. Both HIV and AIDS are trasmitted through contact with bodily fluids such as blood and semen. In most cases, the disease is transmitted through unprotected sex and sharing contaminated needles. Anyone who may have participated in such activities may consider Orawell as the best option for determining results in a fast and easy manner.
What is Orawell and how does it work?
Orawell is an Oral HIV rapid test that tests for HIV1&2, and is recommended by doctors, and is proven to be more than 99% accurate. The kit comes with tools that allow patients to collect a sample of saliva and place it on a test panel for analysis. After 10 minutes, the panel should display the results as positive or negative.
In human saliva, HIV1&2 antibodies are present in very small amounts. The Orawell oral rapid saliva screen test is a chromatographic immunoassay able to detect these antibodies. HIV 1&2 antibodies with binding proteins are precoated onto membranes as capture reagents. During the test, a specimen reacts with the colloidal gold reagents which have been labeled with HIV 1&2 specific agents. If there are any antibodies present in the saliva sample, a pink colored band will develop on the membrane in proportion to the amount of antibodies detected. The absence of this pink band indicates a negative result. In the control region, a pink band always appears regardless of the presence or absence of antibodies.
What you should know about HIV and AIDS
The human immunodeficiency virus, commonly known as HIV, is responsible for the disease known as AIDS. AIDS stands for acquired immune deficiency syndrome, and is a disease known to deplete the function of T-helper cells and weaken the body's immune system, making patients more susceptible to illness and infection. It is commonly transmitted through bodily fluids such as blood and semen. Even though the Orawell Oral rapid HIV Test uses saliva to test for antibodies, there is a very low risk of transmission of HIV/AIDS through saliva.
###