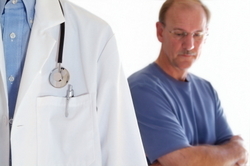 We provide direct medical lab testing that does not require a customer to provide identification.
Plano, TX (Vocus) August 21, 2009
Any Lab Test Now® in Plano provides rapid STD testing to set your mind at ease. STD screens start at $49 and are payable via cash, Visa, MasterCard or Discover. The comprehensive STD panel includes HIV, Chlamydia, Gonorrhea, Herpes (I & II), Syphilis and Hepatitis (A, B & C). The cost for this panel is only $229. Results are usually ready in 24-48hrs.
"We provide direct medical lab testing that does not require a customer to provide identification." Owner Greg Johnson further adds, "Not only does this allow truly anonymous HIV testing, our business model can also get the customer in-and-out within 15 minutes from the moment they walk in the door." Many HIV awareness groups suggest that sexually active individuals get tested every six months. Most HIV infections can be detected after three months of exposure. An HIV screen at six months post-exposure is considered to have a confident level of accuracy.
The Dallas County statistics report that last year there was an increase in the STD infection rate, especially with chlamydia. Many times no symptoms become visible with a chlamydia or a gonorrhea infection. Therefore, people continue spreading the infection without knowing. Additionally, the re-infection rate among couples is high if both individuals are not treated concurrently.
Many people do not get an STD screen because they dread getting "swabbed" for a specimen. Getting an STD test this way can be an embarrassing and uncomfortable experience. However, Any Lab Test Now® tests for STDs through the collection of urine and/or blood. This collection method allows for herpes simplex I & II testing even if no active sores are present. Most tests for herpes requires for an active sore to be present at the time of testing. This may delay a person from getting tested and contribute to the spread of the virus.
What exactly is Rapid STD Testing? The collection process takes less than 15 minutes from the moment you walk in the door and results are back in about 24-48hrs. "We perform so many tests every day that it is cost-effective for us to start processing them the same day the customer comes in," says Johnson.
North Dallas residents wanting to get testing can call (972) 596-6181 or get driving directions to the Any Lab Test Now in Plano on their website. No appointment is needed and walk-ins are welcome. Apart from testing for sexually transmitted diseases, they have hundreds of medical lab tests to choose from including DNA paternity tests, thyroid panel and even a complete wellness checkup.
###