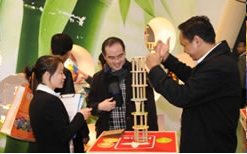 nearly 2,000 exhibitors are expected to set up booths in the fairground, ready to meet their potential business partners
(PRWEB) November 03, 2011
HKTDC Hong Kong Toys & Games Fair 2012 will be held from 9 to 12 January at the Hong Kong Convention and Exhibition Centre. With a track record of success spanning 37 years, the 38th edition is expected to be equally fruitful for participants. The Toy Fair has built a strong reputation throughout the decades and has become the largest event of its kind in Asia, and the second largest in the world. The 2011 fair attracted over 34,000 buyers from 128 countries and regions, a new fair record, seeking business opportunities with toy manufacturers and toy suppliers from every category. This year, nearly 2,000 exhibitors are expected to set up booths in the fairground, ready to meet their potential business partners.
In 2011, the Chinese mainland registered the highest attendance (excluding Hong Kong visitors). This indicated that the fair provided access to the Chinese mainland market, which is showing continued growth in toys sales, attributed to the high spending power of middle-class parents. Significant growth in the number of visitors in Asia countries is also noticeable. Both traditional markets and emerging markets such as Indonesia, Japan, Korea, Malaysia, Taiwan, and even Thailand recorded impressive growth and helped Asia take the largest portion in terms of number of visitors who supported the Toys and Games Fair last year.
To enhance the efficiency and the value of the fair, it is organised into themed zones on specific toy categories including Candy Toys, Hobby Goods, Magic Items, Outdoor & Sporting Items, Paper Products & Toy Packaging, Party Items, Soft Toys& Dolls, Toy Parts & Accessories, Video Games, Testing, Inspection & Certification, as well as Eco Toys to meet the increasing demand for environmental-friendly toys.
The highly commended Brand Name Gallery deserves special mention. It was introduced two years ago to showcase some of the best toys of the year. It is a special environment in which toy manufacturers and toys suppliers are offered a great chance to promote their brand image through the presentation of high quality products. Positive feedbacks were received last year, which the exhibitor number has grown by 32% this year.
In 2012, the fair features a number of special events for toy manufacturers, toy suppliers and buyers. One of these is the Hong Kong Toys and Baby Products Award. This is a competition which highlights innovative, creative, eco-friendly toys and baby products while there will be 2 more awards especially for toys category this year. A number of seminars on toy procurement, green products, market trends and safety directives will also be held to keep participants updated with the latest news of the industry, while enhancing the fair's role as a platform for the exchange of market intelligence.
Product Demo and Launch Pad is an ideal platform for pavilions and toy manufacturers and toy suppliers to promote and demonstrate their new products, draw attention from buyers and overseas journalists and, more importantly, attract potential business partners.
HKTDC Hong Kong Toys & Games Fair generates positive feedback from buyers. "In terms of meeting toy suppliers, this is the best toy show in the world – there are just so many toy manufacturers and toy suppliers exhibiting here. That's the reason I've been attending this event for around 10 years, and I find the service is good every time. I am sourcing a broad range of products, from remote control items to plush toys, which we will distribute throughout the Romanian market." Ms Melinda Matyas, Manager, Peak Toys, Romania
The Fair is expected to draw the attention of buyers from every corner of the globe and enable fruitful trading and valuable intelligence exchanges between toy manufacturers, suppliers and buyers.
###