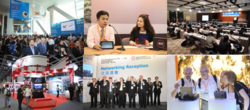 the fair expects a record-breaking 3,000-plus exhibitors from around the world
(PRWEB) September 10, 2011
Innovative electronic products will be showcased in the world's largest electronics fair this October between 13-16, when HKTDC Hong Kong Electronics Fair (Autumn Edition) provides the springboard to global markets for electronic manufacturers and suppliers. It'll help present the best sourcing hub to find export quality electronic products from China and Asia Manufacturers.
In its 31st edition, the fair expects a record-breaking 3,000-plus exhibitors from around the world. In addition, more than 600 electronics components, solar and display technology companies will be present at the concurrent electronicAsia. These two fairs will maximize electronic trade opportunities for all electronic manufacturers and suppliers.
"The Autumn Edition strives to contribute to the continued growth of the electronics industry. The new "Invention Zone" will help inject new ideas into the industry by showcasing the innovated work from Hong Kong, Chinese mainland and Taiwan. Many of the inventions are patent-registered or patent-pending, and endorsed by industry bodies," said Benjamin Chau, Deputy Executive Director, HKTDC.
"A lineup of 'smart' consumer electronics such as tablet PCs, smartphones and related products will be seen in another new zone – "Mobile Device and Accessories" and a dedicated display area in concourse as well. Meanwhile, two other display zones - "Green Electronics Square" and "Silver Market and Healthcare Electronics" will return to address the popular market demand."
Also returning is the Hall of Fame with more than 390 big brands of high quality electronic gadgets. The zone has proven to be one of the most effective international marketing platforms available to brand owners and agents.
During the fair period, a series of industry-specific seminars will be organised for visitors. Among them will be a Hong Kong Electronic Industry Summit, held on 13 October, which will bring together local leading industry players to share their insights on the opportunities and challenges of the electronics industry.
Green ideas will be exchanged at a "Green Electronics Forum" hosted by Taiwan Industrial Technology Research Institute, followed by a product launch session on eco-friendly electronics innovations.
electronicAsia, will showcase the newest products in components and assemblies, together with solar photovoltaic and display technologies from across the world. Entering its 15th edition, electronicAsia is hosting a record-breaking number of exhibitors - over 600. The event will include electronic manufacturers and suppliers in China, Japan, Korea, Taiwan and Thailand.
Opportunities for electronic manufacturers and suppliers will be multiplied in two notable 'fairs within a fair', namely the World of Display Technology and the World of Solar. The World of Display Technology will present the latest technology research, technical improvements and innovations in display technologies.
The World of Solar will showcase an abundant display of solar technologies, components, products and services, photovoltaic & renewable energy equipment, engineering and technology in the search for alternative energy sources.
A conference featuring solar and PV technology will host discussions on Building Integrated Photovoltaic. Leading players of the industry will speak at the conference on 14 October.
To facilitate the continued growth of the, the Hong Kong Electronics Industries Association (HKEIA) and HKTDC join hands again to organise the HKEIA Award for Outstanding Innovation and Technology Products. The competition is free and open for entry to exhibitors of the Hong Kong Electronics Fair (Autumn Edition) and electronicAsia. The award will be presented at the Networking Reception of the fairs on 13 October.
# # #