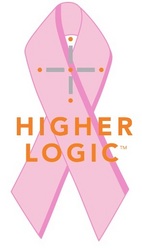 The Learning Series is provided complimentary to nonprofit and association professionals so that Higher Logic can make a difference for these organizations. Together, we can educate the community about the importance of supporting breast cancer awareness
Washington, DC (PRWEB) October 11, 2010
Higher Logic™, the leader in social media and collaboration solutions for associations and nonprofits, announced they are supporting the 25th anniversary of Breast Cancer Awareness Month with donations to the National Breast Cancer Foundation™ (NBCF). For every Learning Series webinar participant in October, Higher Logic will make a contribution to this important cause. The webinars are a collection of social networking best practices, hosted by the brightest minds in the nonprofit and association space. Higher Logic will lend support to other nonprofit organizations in November and December.
Participants are eligible to earn one Certified Association Executive (CAE™) credit per session that they attend during the live call. CAE staff have confirmed that the sessions meet the criteria for educational credit based on the CAE Commission's requirements. In addition, based on the total Learning Series participants, Higher Logic will make a donation to NBCF to support their mission of spreading knowledge and fostering hope in the fight against breast cancer.
The donation process kicks-off with Higher Logic's October 7th Learning Series session, "Unleash the Power of Your Social Network at Happy Hour", presented by John Murcott, President and Co-Founder of Karma411™. Karma411 is a social networking site dedicated to raising money and awareness for nonprofits, including NBCF. Attendees will learn the essential resources and strategies necessary to succeed in the new social environment, how to conquer the fear of social networking and ways to leverage the power of social media to increase fundraising and build online communities.
"Higher Logic's Learning Series program brings together hundreds of professionals from around the world to participate in a conversation on trending topics in the nonprofit and association community," states Higher Logic COO & Social Strategist, Andy Steggles. "We've created a unique platform of collaboration and community in a virtual learning environment that attendees look forward to each week. We hope linking this enthusiasm with support for the National Breast Cancer Foundation makes a difference."
Upcoming Learning Series webinars will begin at 2 pm EST and include:
•10/14: "New Mental Models of Associating for The Network Age"
•10/21 "Play Well With Others"
•11/4: "Engaging Your Staff to Become Ambassadors of Your Community"
•12/2: "Tradeshow Booth Crawl—Use Social Media to Check-in to Your Membership"
View the complete schedule and register at http://www.higherlogic.com/Q4learningseries2010. Past thought leaders include Jeff De Cagna, Principled Innovation, Velma Hart, AMVETS, Jeff Tenenbaum and A.J. Zottola, Esq., Venable LLP, and KiKi L'Italien, DelCor Technology Solutions.
According to Lauren Wolfe, Higher Logic's Marketing and Communications Manager, "The 2010 Learning Series is provided complimentary to nonprofit and association professionals so that Higher Logic can make a difference for these organizations. Together, we can also educate the community about the importance of supporting Breast Cancer Awareness Month."
ABOUT HIGHER LOGIC
Higher Logic provides innovative professional social networking and mobile solutions for associations and nonprofits seeking to increase member retention and generate non-dues revenue. The Connected Community™ application suite empowers members to share best practices and collaborate—anytime, anywhere. For more information, please visit http://www.higherlogic.com . Follow us on Facebook, Twitter and LinkedIn.
###