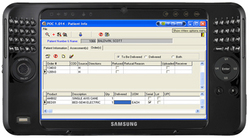 This is ideal for Respiratory Therapists as they can capture the delivery information confirming the order as well as complete clinical assessments and other forms at the same time. All this information can be sent real-time to the server in the home office eliminating dual entry of data and the associated delays in billing as the order is now ready to be billed
Plainview, NY (Vocus) August 6, 2009
Plainview, NY… Taking advantage of the increasing popularity of the new Ultra-Mobile PC (UMPC) Fastrack has ported its Delivery and Clinical Point of Care applications to run on these and other Windows Mobile, Vista and XP compatible devices.
The UMPC features a small foot print approximately the size of a book weighing around 2lbs. Most offer touch panel 7" screens as well as being Wi-Fi and Bluetooth enabled. A bar code reader and broadband card for cellular communication can be added.
The delivery application allows HME and IV providers the ability to send orders to the UMPC device. The delivery personnel can scan the products to verify the correct item is being delivered; capture COD amounts, the patient's signature, reasons for refused items, quantities, serial and lot numbers. Upon completion of the delivery the captured data is sent real-time back to the office automatically confirming the delivery of the order.
Using Bluetooth technology, a portable credit card reader/printer allows for the collection of credit or debit card payments. The driver also has the option of printing a receipt and other required documents.
Fastrack's Point of Care application can now run with the delivery module. "This is ideal for Respiratory Therapists as they can capture the delivery information confirming the order as well as complete clinical assessments and other forms at the same time. All this information can be sent real-time to the server in the home office eliminating dual entry of data and the associated delays in billing as the order is now ready to be billed," stated Spencer Kay, President of Fastrack.
Fastrack's Delivery module can be incorporated with the Fastrack Routing module which optimizes the driver's route providing turn-by-turn directions and the Automated Wireless Warehouse application that sends orders from customer service to PDA devices for picking the product in the warehouse.
For further information contact Fastrack Healthcare Systems at 1-800-520-2325, by email at: info@fastrk.com or visit their website: http://www.onlyfastrack.com.
# # # # #