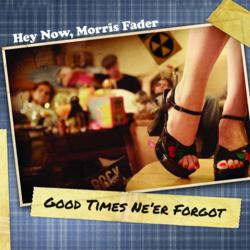 "A real delight, with a 70s vibe and some damn fine playing... The common thread on all these songs is the workout Milgate gives his piano..." – Absolute Powerpop
Worcester, MA (PRWEB) September 06, 2012
Hey Now, Morris Fader releases their 3rd full-length album, "Good Times Ne'er Forgot," with special guests The Lights Out, Thinner, Big Eyed Rabit, and New Pilot this Saturday, September 8th at Ralph's Diner in Worcester, MA.
Ralph's Rock Diner
148 Grove Street
Worcester, MA 01605
Tickets available at the door
Show time: 8PM/21+
"A real delight, with a 70s vibe and some damn fine playing... The common thread on all these songs is the workout Milgate gives his piano..." – Absolute Powerpop
New England-based American power-pop band, Hey Now, Morris Fader, officially releases their new album Good Times Ne'er Forgot on Tuesday, September 18th, however, advance copies will be made available to those attending the release show on September 8th.
Originally formed as a one-off project between keyboardist/singer Brooks Milgate and drummer Alex Sacco, the duo wrote powerful, melodic pop songs with an honest and heartfelt approach. As the buzz surrounding Hey Now, Morris Fader grew, longtime colleague Justin "Pez" Day was drafted for bass duties, further filling out the already striking sound. The band claimed the title of Best Pop Act in Worcester Magazine's 2009 music poll. Members of the band have played with acts such as The Howl, Bow Thayer and The Perfect Trainwreck, and The Luxury. Hey Now, Morris Fader, perfectly combines elements of Ben Folds Five, Superdrag, U2, and Boston, to create their explosive live performances to the delight of fans.
Good Times Ne'er Forgot, Hey Now, Morris Fader's third full length album, is packed with catchy melodies, energetic guitar, intricate piano lines, and a commanding rhythm section. Milgate powers through every vocal line with strength and conviction. Milgate delivers the very relatable story through his lyrics of a desire to pursue one's passions while trying to find a way to extract oneself from the banal routine of daily life. Hey Now, Morris Fader knows how to set the bar for a driving anthem just as profoundly as they communicate a potent ballad. "Cop Show," creeps in with a bluesy piano over hammond organ, leading into an explosion of distorted guitar and hard-hitting rhythms. Fast-paced tracks on the album include the first track, "Blues and Alcohol," and "Smart Girls are Smart," sung by Sacco, bringing the command that we want at a live show. Tracks like these are contrasted with marvelous arrangements like "Asleep at the Wheel." Good Times Ne'er Forgot is a perfect combination of blues, soul, rock, and pop - a seamless album with something for everybody.
Joining Hey Now, Morris Fader in the studio for the recording of Good Times Ne'er Forgot were guests: Troy Gonyea (Booker T. Jones, The Howl) and Peter Zeigler (The Rationales) on guitar, Dana Colley (Morphine) and Brian Kearsley on saxophone, Heather Day (Tiger Saw), Chris Barrett (Kingsley Flood), and Ross Hill on trumpet, and Ian Kennedy (Reverse) on violin. Good Times Ne'er Forgot was produced by John Taft at New Alliance Studios in Boston.
You can learn more about Hey Now, Morris Fader at http://www.heynowmorrisfader.com.