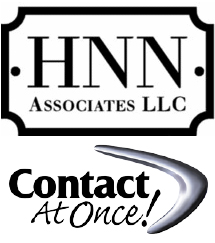 We were seeking an opportunity to interact and connect with more prospects than we had been via phone calls and email exchanges.
Alpharetta, GA (PRWEB) March 13, 2012
Contact At Once!, the leading provider of apartment chat software, today announced that HNN Associates, a multifamily property management company located in Bellevue, WA has selected Contact At Once! to power online chat across all of their consumer-facing websites. The new chat functionality offers prospective residents a direct, real-time connection to HNN's leasing team, while also affording current residents the ability to communicate with property staff to address maintenance needs and operational questions.
"We were seeking an opportunity to interact and connect with more prospects than we had been via phone calls and email exchanges," said HNN Associates Owner and Managing Partner, Philip Nored. "After careful consideration, we selected Contact At Once! to provide multifamily chat because it allows both our residents and our prospects the opportunity to communicate with us in real-time. With so many of our future and current residents unable to communicate via phone during working hours, Contact At Once! offered a compelling way for them to reach out to us and to have their questions answered discreetly and in a detailed, personalized manner."
ContactAtOnce! is the multifamily industry leader in apartment chat software, moving prospective renters into live conversations with leasing agents. Multifamily housing communities (apartments) typically see a 25% or higher increase in responses to their property listings by adding live chat to their properties websites, Facebook pages and Craigslist postings. This results in more opportunities for leasing professionals to influence rental decisions, to build rapport and book more leasing appointments.
"Chat itself may not be a new technology, which is actually part of its appeal," notes Ed Javier, Contact At Once! Vice President of Sales, Real Estate Solutions. "Consumers understand chat, and feel a level of comfort and control by communicating via chat. In a recent study we conducted of property management companies that leverage multifamily chat, approximately one-third of leases originate as website chats. Apartment chat allows the leasing team to be available at night or at other times when the leasing office might be closed, which benefits both the properties in question as well as the prospective renter."
"Apartment chat is definitely cool," enthuses HNN's Nored. "Our commission-based leasing team members are able and willing to chat with prospects during evening hours and that greatly expands their income potential. Equally important, we've found that Contact At Once! chat is helping with our resident retention efforts. Our current residents like being able to chat with us to address concerns, to reserve a clubhouse and get a response in real-time. The roll-out of apartment chat has been well received by all."
Contact At Once! helps to further personalize the online research experience by allowing site visitors to easily engage with apartment communities. Visitors are welcomed by a presence-aware chat greeting when a leasing agent is online and available to answer their questions. When an online visitor clicks on a chat button, a window opens to display the name and photo of the leasing agent who is responding to the chat request.
About Contact At Once!
Contact At Once! is the leading multifamily, apartment rental chat software provider and operator of the apartment industry's only multifamily chat network. The chat network consists of hundreds of apartment rental communities, as well as major listing services like Apartments.com and ApartmentFinder.com. Adding Contact At Once! apartment chat software to a website typically increases a lead to rental conversations by at least 25%. Named to the Inc. 500 as one of America's fastest growing businesses in August of 2011, Contact At Once! is headquartered in Atlanta, Georgia. For further information about the company's solutions for the multifamily apartment rental vertical, please go to http://www.apartmentchat.com.
About HNN Associates
Based in Bellevue, WA, HNN Associates manages real estate assets according to the specified investment goals of our investors. We maximize cash flow for our investors through processes that balance short-term return on investment with long-term housing preservation and value enhancement. We nurture a reputation of excellence in our housing communities, in our operations, and within ourselves. We promote healthy communication, productive teamwork, integrity and professionalism. To learn more, please visit http://www.hnnassociates.com.