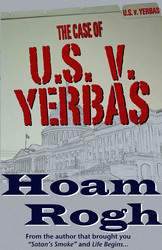 Marijuana prohibition violates your due process rights
Peoria, IL (PRWEB) September 26, 2010
Anyone that has studied the issue knows that marijuana legalization or decriminalization is coming. Hoam Rogh ensures the change in law with his new book, The Case of U.S. v. Yerbas. It discloses the history and constitutional implications of marijuana prohibition, complete with lies from the President, the Chief Justice of the Supreme Court, and other official arbitrary acts. It exposes the unconstitutional prohibition of cannabis. Schedule I cannabis' days are numbered.
"The only reason cannabis has been outlawed this long is that people don't know its true story," says the book's author, Hoam Rogh. He brought an earlier version a few months out ago, but decided to take a different direction once a major distributor came along.
"He wrote a great book, but the presentation chilled many potential readers," says James Liam, CEO of Shady House Publishing Company, the work's publisher. It believes that for the injustice to end as soon as possible the lessons from the book need to reach as many people as possible. Shady House Publishing Company retired the fair use parody of the "Assassins of Youth" propaganda movie poster and came up with a more direct title and cover.
The Case of US v. Yerbas encapsulates the whole book in its title. The story features a trial in federal court that invalidates cannabis prohibition. See what thousands of readers' are saying on its facebook page, Marijuana Prohibition Is Unconstitutional. The book will be available everywhere. But for a limited time, it's exclusively available online through the publisher. Shady House Publishing's online bookshop.
It doesn't end there. The people at Shady House Publishing are organizing 4/20 Flood. "We want to take our activism to a whole new level," says Rogh. He wants people to take what they learned from the Case of US v. Yerbas and hold Congress accountable. 4/20 Flood has a tag line, "If 1 million people tell Congress they're not criminals, will Washington D.C. listen?"
Who knows.
But if you want to find out about how the government is screwing you over, there's a darned good book out there for you to read. Learn it yourself with The Case of US v. Yerbas.
###