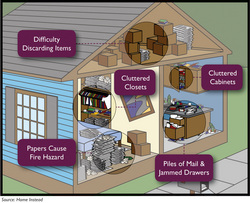 A Caregiver's Guide to Clutter Creep
Omaha, NE (Vocus) June 18, 2010
Too much clutter in a senior's home isn't just unsightly, it's dangerous. That's why the Home Instead Care network is warning family caregivers to look out for excess clutter that can turn an older adult's home into a safety hazard.
Potential danger zones are everywhere, from the attic to the basement, with health risks ranging from old food and expired medications, to tripping hazards, rodents and mold. "A Caregiver's Guide to Clutter Creep" is among the resources created by the company to help families keep seniors' homes clutter free.
"A lifetime accumulation of belongings combined with an influx of daily junk mail, bills, newspapers and magazines can quickly overwhelm seniors who are struggling physically, mentally or emotionally," said Paul Hogan, co-founder and CEO of the Home Instead Senior Care network. "That can put seniors at risk in every room of their house."
"Spring is a great time to recommend that family caregivers help seniors de-clutter for their own health and well-being, says Hogan, "and if you need assistance, consider a certified professional organizer or caregiver," he adds.
"Sometimes seniors just need a little help. One Home Instead CAREGiver helped her client go through a basement full of newspapers and clipped the important articles that he wanted to save, enabling him to throw away the bulk of the clutter. That was a relief to both the senior and his children."
For more information about home organizing to help seniors de-clutter, visit the National Association of Professional Organizers, the National Association of Senior Move Managers, and the National Study Group on Chronic Disorganization.
Or download additional resources from the Home Instead Senior Care Breaking Point clutter-clearing campaign.
Founded in 1994 in Omaha, the Home Instead Senior Care® network is the world's largest provider of non-medical in-home care services for seniors, with more than 875 independently owned and operated franchises in 14 countries and 15 markets, spanning four continents. Home Instead Senior Care local offices employ 65,000+ CAREGiversSM who provide more than 40 million hours of client service each year through activities including companionship, meal preparation, medication reminders, light housekeeping, errands and shopping. Home Instead Senior Care founders Paul and Lori Hogan pioneered franchising in the non-medical senior care industry and are leading advocates for senior issues in America. At Home Instead Senior Care, it's relationship before task, while continuing to provide superior quality service that enhances the lives of seniors everywhere.
###