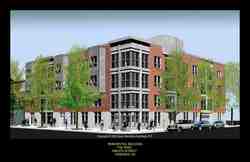 The building also offers 11 resident parking spaces and a rear common courtyard. Most of the upscale homes feature balconies.
Hoboken, NJ (PRWEB) December 30, 2007
Adam Mermelstein of TreeTop Development is reporting strong sales at its two new luxury condominium buildings situated just blocks from historic Washington Street in the Hudson County City of Hoboken, NJ.
Market conditions currently being experienced in surrounding housing markets have seemingly had little effect on the collection of 33 luxury one-and two-bedroom homes as nearly 50% of the new condominiums are already sold, according to Adam Mermelstein, a principal of TreeTop Development, which is developing the new-construction buildings on Jackson Street between the Washington St. corridor and the Hudson-Bergen Light Rail's 9th Street Station.
"In many of the country's housing markets, a slowing economy and declines on Wall St. have attributed to a decline in sales for luxury condominiums," Mr. Mermelstein points out. "The success we're experiencing at these new Hudson County developments seem to indicate Hoboken remains relatively unaffected by recent troubles."
TreeTop's new luxury condominium offerings include The Emsee, a four- and five-story building between Fifth and Sixth Street that offers three one-bedroom and nine two-bedroom layouts, and Ariel Square, a four-story building at the corner of Fifth Street with 12 two-bedroom and nine one-bedroom apartment.
Condominium homes in both buildings offer architecturally-distinctive exteriors, modern, comfortable interiors and a host of upscale amenities and features commensurate with luxury living in a New Jersey Hudson River "Gold Coast" city.
One-bedroom condominiums at The Emsee provide from 711 to 909 square feet of luxury living space and are preconstruction-priced from $374,000 with parking. Two-bedroom floorplans offer from 1,162 to 1,510 square feet and are priced from $509,000, parking included. Initial occupancy for the homes is expected in July, 2008.
"The Emsee's upper floor homes each include 224 square feet of usable rooftop space," Mr. Mermelstein points out. "The building also offers 11 resident parking spaces and a rear common courtyard. Most of the upscale homes feature balconies."
Ariel Square offers three residential floors over 20 enclosed parking spaces. One- and two-bedroom layouts range in size from 750 to 1,292 square feet of living space and will be preconstruction priced from $389,000 for one-bedroom floor plans, and from $509,000 for two-bedroom homes, including parking. Initial occupancy for the residences is expected in May, 2008.
Designed by Dean Marchetto Architects of Hoboken, Ariel Square's exterior design features a traditional brick-and-concrete façade with modern aluminum accent details. Interiors are modern and cutting edge.
"Some of Ariel Square's luxury two-bedroom condominium homes feature floor-to-ceiling windows, while all homes include bamboo floors, central air, contemporary tiled bathrooms, and kitchens with stainless steel appliances, blizzard white Caesar stone countertops and espresso colored cabinetry," Mr. Mermelstein indicates. "Moreover, the 'L'-shaped building is distinguished by a modern lobby, private gym, a rear courtyard and rear terraces."
Homeowners at The Emsee and Ariel Square enjoy a location easily accessible to the many boutique shops, fine restaurants and services found along Hoboken's Washington Street and historic downtown business corridor. They will also benefit from a wealth of transportation outlets that whisk commuters to the major business and cultural center's of Manhattan, including nearby Light Rail service, the PATH and New York Waterway Ferry.
For additional information on The Emsee or Ariel Square, please contact Michael Klein of Liberty Real Estate at (201) 320-5371 or visit http://www.arielhoboken.com.
About TreeTop Development:
Led by General Partners Azi Mandel and Adam Mermelstein, TreeTop Development, LLC is a multi-faceted real estate concern with a focus on developing luxury condominium buildings in key urban centers throughout the New York Metropolitan area. The company also actively acquires existing rental properties in the region with an eye towards modernizing living spaces, common areas and building systems before returning them to market. For more information on the company and its properties, visit http://www.treetopdev.com
Contact:
George M. Cahn
President
CAHN Communications
201-876-3100
###