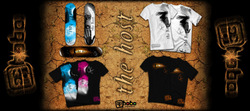 The Hobo designs combined with our rich production quality and social cause made the choice to sign with Hobo clear.
Scottsdale, AZ (PRWEB) September 2, 2009
Hobo Skate Company today announced an agreement with New York Times #1 bestselling author Stephenie Meyer to create the first products to be released based on her book The Host. Stephenie Meyer's work recently swept 5 MTV Movie awards, 11 Teen Choice awards and a Nickelodeon Kids' Choice award.
Hobo's first design for Stephenie Meyer was an original The Host designed skateboard created earlier this year for a charity fundraiser that auctioned for $1,500. Hobo will now expand the Host design concept in clothing and other products that will be globally distributed.
"We created an image of The Host exactly as Stephenie Meyer pictured it in her mind", said Jared Hancock, founder of Hobo Skate Company. "The Hobo designs combined with our rich production quality and social cause made the choice to sign with Hobo clear."
"Stephenie has been fantastic to work with", said Chad Swensen, founder of Hobo. "Her extraordinary talent and imagination behind The Host gives us incredible design concepts to work with. Even with Stephenie's insane schedule with New Moon and Eclipse movie productions, she has worked with us on every detail to make sure the products are remarkable."
Hobo will begin selling the first available Host products online today at the Hobo Online Store. Hobo is also working on several retail distribution agreements where the products will be sold.
"We are stoked to have Stephenie on board with Hobo", said Hancock. "Her global popularity and worldwide success gives us a huge boost in selling products that will contribute to our cause. A portion of all sales will go to the Hobo Foundation that helps homeless families who have been forced to live on the streets."
Hobo is currently working on other successful licensing agreements in addition to expanding their line of Hobo branded skateboarding products.
About Hobo Skate Company:
Hobo Skate Company, Inc. is the world's leading social cause extreme sports company, which designs, produces and distributes a superior mix of branded skate gear, accessories, apparel and footwear. The company's product sales fund the Hobo Foundation which provides much needed assistance to homeless families around the world.
For more information about Hobo Skate Company and the Hobo Foundation, please visit http://www.hoboskateco.com.
###