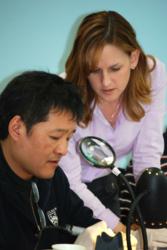 Great course that really gets me started on the right path to successful, no stressful endo. - John Michalak
South Hackensack, NJ (PRWEB) March 15, 2012
Essential Dental Seminars, the award winning dental CE provider, has just announced new additions to their course calendar at its state-of-the-art Hands-On Dental Education Facility (HODEC) in South Hackensack, NJ.
Two day courses that award 17 CE credit upon completion are being held on the following dates for the 2012 year:
Apr 13-14
May 18-19
Sep 7-8
Nov 2-3
The embedded video highlights some of the action from a recent course held at HODEC. As you can see for yourself, dentists who have attended "Safe & Predictable Engine Driven Endodontics" left confident and satisfied after an intensive two-day endodontic hands-on learning experience.
HODEC is unique by immersing its participants in a rigorous course that inspires dentists to feel comfortable performing excellent endodontics. Taught by leading practicing endodontists including Dr. Barry L. Musikant and Dr. Allan S. Deutsch, dentists perform all phases of the endodontic process from diagnosis, access, instrumentation, irrigation, obturation, and restoration with their own hands.
Course designed for dentists seeking to learn techniques and procedures that virtually eliminate the anxiety & stress associated with instrument breakage, eliminate canal distortion while providing adequate preparation size. Located just outside New York City, HODEC offers dentists the chance to learn the most innovative and ground-breaking techniques and equipment available to the dental community today. At HODEC, dentists learn by doing hands-on dentistry themselves using 3-D technology, advanced microscope equipment, and an assortment of innovative dental products. At HODEC dentists can enhance their skills with the comfort and convenience of using the most contemporary dental technologies.
To register for 2012 dates and to receive $100 off tuition, contact Victoria Reina, CE Administrator at (888) 542-6376 or register online at http://www.essentialseminars.org
About Essential Dental Seminars:
Essential Dental Seminars holds award winning dental CE courses across the US and abroad. Courses are taught by leading clinicians and dental experts in a variety of disciplines of dentistry. Some recent topics include aesthetic whitening and endodontics. Essential Dental Seminars is the proud recipient of the Dentist's Guide for Excellence in Continuing Education Award.
Contact:
Victoria Reina, Sales & Marketing Manager
Essential Dental Seminars
(888) 542-6376
http://www.essentialseminars.org
###