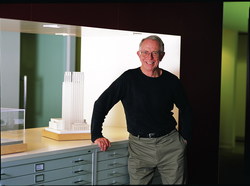 This award is a fitting tribute to a man who has had a profound positive impact on leading our firm and the entire industry toward environmentally responsible design
San Francisco, CA (Vocus) October 19, 2007
In recognition of his commitment to designing innovative transit facilities and encouraging transit through sustainable design leadership, HOK Chairman Bill Valentine, FAIA, LEED® AP, accepted the 2007 "Outstanding Business Executive" Award at the American Public Transportation Association (APTA)'s Annual Meeting in Charlotte, N.C., on October 9.
APTA's award honors outstanding contributions made by an executive who has taken a leadership role in improving his or her company and in making significant contributions to the community and public transportation. The honor is awarded to chief executive officers or board members of APTA business members or companies that have contributed to advancing public transit.
Valentine joined HOK in 1962 and is based in the firm's San Francisco office. Valentine's passion for public transportation is reflected in HOK's long list of mixed-use, transit-oriented development projects. Whenever possible, Valentine pushes to make transit appealing and convenient as an integral part of a project's design solution. He believes – and has proven through his distinguished architectural career – that each transit-first project and sustainable transit facility design creates an incremental step toward preserving our environment and improving people's lives
"This award is a fitting tribute to a man who has had a profound positive impact on leading our firm and the entire industry toward environmentally responsible design," says HOK CEO Patrick MacLeamy.
HOK's notable transit and transit-oriented development projects include the Santa Clarita Transit Maintenance Facility in Santa Clarita, Calif., (LEED Gold); Delta Air Lines Terminal A at Logan International Airport in Boston (LEED Certified); Indianapolis International Airport Midfield Terminal in Indianapolis (under construction and pursuing LEED certification); Houston METRO Light Rail System urban and station design; Dallas Area Rapid Transit Light Rail design standards; St. George Intermodal Terminal in Staten Island, N.Y.; Transbay Transit Center plan and design guidelines in San Francisco; Bay Meadows Mixed-Use Development in San Mateo, Calif.; the Franchise Tax Board State Office Building in Sacramento, Calif. (transit-first); and VERITAS' headquarters in Mountain View, Calif. (transit-first).
Valentine earned a Bachelor of Architecture degree from North Carolina State University and a Master of Architecture degree from Harvard University. A Fellow of the American Institute of Architects, he is a frequent speaker and author on sustainable design topics.
HOK is a global architectural firm that specializes in planning, design and delivery solutions for buildings and communities. Through its collaborative network of 26 offices worldwide, the firm serves diverse clients within the corporate, commercial, public and institutional markets. HOK is committed to developing resources and expertise to help lead the world toward sustainable communities and building environments. Founded in 1955, the firm's expertise includes architecture, engineering, interiors, planning, lighting, graphics, facilities planning and assessment and construction services.
Contact:
Mike Plotnick
314.754.4315
mike.plotnick @ hok.com
http://www.hok.com
# # #