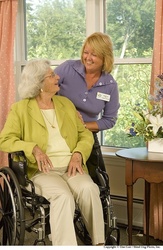 "Choosing a nursing home for your parent or loved one is incredibly difficult," says Avery Comarow, Health Rankings Editor at U.S. News & World Report. "Homes at the top of our rankings have repeatedly shown high quality and deserve consideration."
Scarborough, ME (PRWEB) February 23, 2011
Holbrook Health Center at Piper Shores has received a high ranking of five stars overall in U.S. News & World Report's 2011 Best Nursing Homes.
The rankings highlight facilities across the nation providing high-quality care and are a worthwhile tool for millions of elderly Americans and their families in search of a nursing home.
U.S. News's Best Nursing Homes profiles more than 15,000 facilities and ranks them by state, using data and quality ratings from the federal government. The rankings are updated quarterly.
The rankings rely on information from the Centers for Medicare and Medicaid Services, the federal agency that sets and enforces quality standards for all homes enrolled in Medicare or Medicaid. Nursing homes receive an overall rating of one to five stars from the government based on a composite score from three distinct operational areas: health inspections, nurse home staffing, and quality measures.
"At Holbrook, we take a personal, compassionate approach to resident care," said Peggy Farrington, Piper Shores. "We take the time to get to know each resident and to let them inform and guide us in how we manage and provide their care. We are pleased that this approach is consistently reflected in our high rankings with US News Media, the Centers for Medicare and Medicaid Services and the State of Maine."
Nursing home facilities that ranked highest in Best Nursing Homes 2011 earned overall five-star ratings. Only about one nursing home in seven met this standard.
"Choosing a nursing home for your parent or loved one is incredibly difficult," says Avery Comarow, Health Rankings Editor at U.S. News & World Report. "Homes at the top of our rankings have repeatedly shown high quality and deserve consideration."
The complete list of U.S. News & World Report's 2011 Best Nursing Homes is available online at http://www.usnews.com/nursinghomes.
About Holbrook Health Center
Located on the beautiful Scarborough, Maine coast, Holbrook Health Center is the skilled nursing care component of Piper Shores. Holbrook and Piper Shores are owned by Maine Life Care Retirement Community, Inc., a Maine nonprofit organization formed by a group of prominent Maine citizens with a shared vision. Together, these individuals created Maine's first and only lifecare retirement community that promotes residents' long-term wellbeing and health within a continuum of lifecare services. Life Care Services, LLC, the nation's leading development and manager of senior living communities, provides management services for Piper Shores and for Holbrook.
For more information, visit http://www.theholbrook.org/ or call 207-883-8700.
###