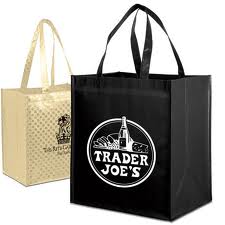 Dallas, TX (PRWEB) November 15, 2012
In the business landscape today, more companies are realizing the importance of being socially responsible. Through green initiatives, businesses are able to protect their community around them and work to make the area where they serve a better place. One way many businesses are doing this is by getting on board with the latest trend in using reusable shopping bags to make purchases and helping reduce the plastic waste found in so many landfills. Holden Bags has heard this need of companies and is now promoting a new approach to promotional items that is far more likely to be used by the recipients and will help businesses establish their brand image as environmentally friendly. Helping with the promotions of this service is LAD Solutions, a well-respected Los Angeles based online marketing firm.
Promotional items are used by companies as giveaways in a number of situations. In the office, employees receive gifts out of appreciation by the company they work for of a job well done. At trade shows, businesses give away gifts to help prospects remember their brand after they leave their booth. And in other situations, customers receive gifts to use as a way to promote a brand and help show off their logo in their community.
Reusable bags have been shown by a number of companies to be one of the most favored promotional items. This is because the bag itself is versatile and is likely to be used more often. This means that not only will the company give away something of value but their goal of having their brand carried by their customers and seen throughout the community is more likely to be met. In addition, when a logo is placed on an item that shows the company's commitment to giving back to the community where they serve by helping eliminate waste, they immediately create a positive brand image.
Now, LAD Solutions, a well-known and favored online marketing company in Los Angeles, has partnered with Holden Bags to help promote this mutually beneficial way that companies can be socially responsible. With the help of LAD Solutions, Holden Bags hopes to show businesses how they can create a positive image of their company by giving away a highly effective promotional item to their employees, at their next tradeshow or to their customers.
About Holden Bags: For over 30 years, Holden Bags has been providing companies with custom designed reusable bags at wholesale prices. These bags have been used at trade shows, for giveaways and as tote bags. With a strong commitment to customer service, Holden Bags stands apart from its competitors providing the best ideas and promotional solutions for its clients. Through the use of tote bags as promotional items, companies are able to give away a more useful gift that is likely to be used by loyal customers and seen by prospects. To view some samples from their selection of colors and designs or to learn more about this Dallas based company, visit their website at http://www.holdenbags.com