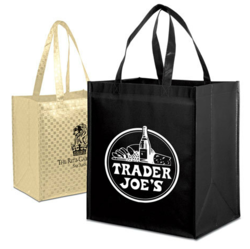 Wholesale Prices, 3 Day Turn!
Dallas, Texas (PRWEB) July 02, 2012
As the green movement has been gaining steam over the past decade, wholesale reusable bags have been exploding in popularity. Since 1975, Holden Bags has been serving customers in need of large quantities of tote bags. In April, Holden Bags' Laminated Big Storm bag received a cumulative 5-star rating from satisfied customers. To spread the word regarding its ability to successfully meet consumer tote bag needs, Holden Bags recently partnered with LAD Solutions, an internet marketing firm based in Los Angeles.
In addition, large corporations, not just individual consumers, have enjoyed helping the environment by making regular use of these bags. In one case, Quiznos turned to Holden Bags when it was in a pinch.
"Quiznos needed 1.8 million bags to be designed, constructed, and delivered in less than 8 weeks for an eco-friendly campaign that was being pushed out to over 3,000 stores across the USA. Holden Bags was able to fulfill this order on time and at an unbeatable price. Thank you Holden Bags for helping us take this project on without any glitches!" stated a Quiznos representative.
Holden Bags' highly rated bag, the Laminated Big Storm bag, is made of premium-grade 110 GSM polypropylene. Each is outfitted with a bottom-layering insert that helps sturdy the bag for carrying heavier loads. The handles are double-stitched reinforced and have a 10-inch depth. The bag itself is 13 inches wide by 15 inches high, and logos imprinted on the side are 8 inches wide by 8 inches high.
Holden Bags offers free quotes to all companies interested in ordering. Customers must make minimum orders of 100, and the typical turnaround time is one to three business days. Businesses small and large that need any size order of wholesale shopping bags should contact the company.
About Holden Bags: Holden Bags has been assisting companies in need of reusable grocery bags, promotional totes, and trade-show bags with the products they need since 1975. The company currently offers wholesale prices and a three-day turnaround on most projects. Customers are offered a free quote and walk through a brief seven-step process before work is begun on their project.