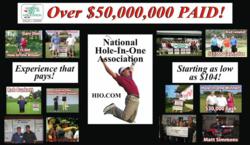 We've been holding annual tournaments for many years, and this is the first time we've had a player win the big prize
Dallas, TX (PRWEB) October 31, 2011
For more than two decades, BGL Brokerage has supported the Montreal-based James Barriere Foundation for the Underprivileged, which donates to scores of charities that serve needy citizens. This year, BGL, a customs brokerage and freight forwarder,hosted a golf tournament fundraiser that added to the foundation's coffers and turned one lucky participant into a new car winner paid for by hole in one insurance.
More than 120 golfers took part in the event, which was played at Kanawaki Golf Club on the Kahnawake Indian Reserve, just south of Montreal. "BGL covered all of the tournament's expenses, so that all money that was raised from entry fees, outside sponsorships and other sourceswent to the foundation," says Ron Gaudette, Vice President of BGL Brokerage.
This year, as they've done at past golf fundraisers, organizers offered three hole-in-one grand prize opportunities, with a new car as the prize for each. The ninth hole—a 185 yard par 3—featured a Jaguar SKR, offered in conjunction with Decarie Motors, a 65-year-old Bentley, Aston Martin, Land Rover and Jaguar dealer in Montreal.
Albert Barbusci, a golfer with more than 30 years of experience on the links, landed an ace on that hole. "I was watching the trajectory and it looked good," recalls Barbusci, who plays an estimated 100 rounds of golf a year. "It landed on the front part of the green—probably within15 feet or so. I could only see half of the flagstick, though, because the green is bowl shaped.
"The people gathered by the green began clapping," adds Barbusci, who has twice before landed a hole-in-one. "But they weren't really cheering, so I thought maybe they were kidding with me." A short walk proved him wrong. "I got up there and realized it was, indeed, a hole-in-one. Obviously, I was quite excited!"
Course Head Pro John Murray was one of half-dozen or so individuals who saw Barbusci's shot find its way into the winning hole. "The club house is right behind the 9th green," he recalls, "and I had just walked out to check the scoreboard. As I was heading toward the hole, I saw a ball rolling towards the cup and then go in. I didn't see the shot, just the result. But everyone was certainly excited."
Among those who were most excited was Ron Gaudette. "We've been holding annual tournaments for many years, and this is the first time we've had a player win the big prize," he says. "Of course, local charities have been winners all along."
Gaudette was involved in forming the James Barriere Foundation for the Underprivileged as a way to honor his BGL Brokerage partner, Jim Barriere, on Jim's 50th birthday. "I had been thinking, 'What kind of birthday present can I get for my associate and best friend who has everything he needs?'" Gaudette recalls. "I know Jim has always been a generous man who loves to give to the needy in our community, unknowingly to Jim, I created foundation, which we launched at a birthday celebration in his honor."
The kick-off event raised $65,000 and in the ensuing years, the Foundation has raised more than $3 million for worthy causes."Every year, Jim will sign dozens of checks for different institutions," Gaudette explains. "There are so many worthwhile organizations in our region that provide assistance to people who need it most.
"Having a prize winner at this year's tournament will generate even more interest in upcoming events, and will help us raise even more money for those who need a helping hand," he adds.The winning prize was paid for through an insurance policy offered by National Hole-In-One Association, a global provider of hole-in-one prize insurance and other golf contest insurance.
With corporate headquarters in Dallas, Texas and offices in London and Melbourne, National Hole In One Association and its sister company, Grand Prize Promotions, have covered more 300,000 events and have paid out in excess of $50,000,000 in cash and prizes. Established in 1981, National Hole-In-One Association is the largest, most experienced and respected hole-in-one insurance prize provider in the world.
Grand Prize Promotions was founded to continue this tradition of excellence in servicing unique insurance coverage's with "attention-grabbing prize insurance" business contracts beyond hole-in-one contests. Their expertise is in specialty insurance prize programs such as snow promotions and sport contests which designed to be fun, cost effective promotions for the automotive industry, jewelry stores and other retail industries, tradeshows, special events, direct mail campaigns, online contests, radio and television campaigns. They also provide weather insurance (rain, lightning, wind, adverse conditions) and event cancellation insurance for venues in the United States and throughout the world.
###