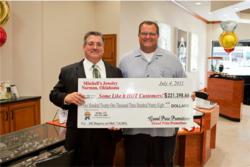 Expert marketer uses type of "hole in one insurance" program to boost sales and make customers very happy!
Dallas, TX (PRWEB) July 26, 2011
When temperatures hit 100 degrees at Will Rogers Airport in Oklahoma City on July 4th, a lot of people were happy. And it wasn't just those with swimming pools, holiday plans at the lake or golf contest covered by "hole in one insurance". This year, over two hundred people were celebrating because they received free jewelry—nearly a quarter-million dollars of free jewelry, paid for by Grand Prize Promotions.
Those celebrating were winners in Norman-based Mitchell's Jewelry's"Some Like it Hot!" event, offered in conjunction with conditional-rebate prize provider Grand Prize Promotions, based in Richardson, Texas. The insured promotion, which ran June 1-27, promised jewelry buyers a full rebate on their purchase if the official airport temperature reached 100 degrees on July 4.
According to Newt Mitchell, owner of Mitchell's Jewelry, Oklahoma weather this year heightened interest in the promotion. The promotion generated considerable buzz—and business. "Sales were up 60% as a result of the event," Mitchell explains. "Especially toward the end of the promotion, people were just coming out of the woodwork.
Doug Burkert, president of Grand Prize Promotions and its affiliate, National Hole In One Association, a provider of "hole in one insurance" and other prize indemnity promotions, points out that this isn't the first time Mitchell's Jewelry customers won big in a conditional rebate. "In 2009" he says, "customers ended up with free jewelry, Oklahoma Sooners with 8 starters out, held Oklahoma State scoreless for the first half of their annual Thanksgiving weekend football game."
"We do these events for a couple of reasons," Mitchell says. "First, we want to boost customer loyalty; people have options, and we want them to give them another reason to think of us first when it comes time to make a purchase. Second, we want to reward loyalty and offer a chance for our customers to get their jewelry for free.
This year's response confirms the event's popularity. For weeks, people were interacting with the store on its Facebook fan page—"liking" promotion announcements, sharing their purchase plans and, once the mercury reached 100 and above, expressing excitement at winning. "People absolutely love it," Mitchell notes. "Jewelry purchases are happy times anyway—getting engaged, celebrating a milestone, showing love. But to get it free, you can't beat it, especially for young people starting off after college."
To highlight their win, Mitchell's Jewelry hosted a "Some Like It Hot!" Free Jewelry party where he handed cash back to the winners in mid-July. Actually, they had to host two parties to handle all of the winning customers. Half were invited one night, half the next.
Mitchell's enthusiasm for conditional rebate promotions is apparent. "I'd do one every month if I could," he says. "There's no down month in our business. There's a birthday or anniversary every month. And when she says it's time to get engaged, you pretty much better respond!"
Mitchell's Jewelry is a family-owned jewelry store located in Norman, OK. They have been providing central Oklahoma with fine jewelry, custom design and quality repair work to their customers since 1981. Their motto is "Where Oklahoma Gets Engaged!"
Grand Prize Promotions and National Hole-In-One located in Richardson, TX a suburb of Dallas, is in their 30th year of business. They have paid out in excess of $50,000,000 to their winners. Their specialty is hole in one insurance, prize promotion contest insurance, conditional rebate programs and event cancellation insurance. "Experience that Pays!" is often heard in their office, now we know why!
Visit our Facebook fan page.
###