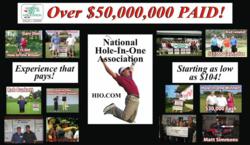 "Prize restoration is a very important feature to have when receiving a hole-in-one insurance quote.
Dallas, TX (PRWEB) September 26, 2012
Whoever said that lighting doesn't strike twice in the same place, never met any of the amateur golfers who compete for prizes backed by the National Hole-In-One Association.
Take New Yorkers Bill Davis and John Lomangino for instance. These amateur golfers both scored hole-in-ones on the same day on the same hole within a few hours of each other. "Landing that hole-in-one was very cool, probably my best day on the golf course," Bill Davis said.
The National Hole-In-One Association, based in Dallas, Texas, covered hole no. 2 that paid out the $10,000 to each of the golfers. This pair of holes-in-one occurred during the Municipal Bond Club of New York's Annual golf scramble held at the Ardsley Country Club in Ardsley-on-Hudson, NY. Davis, who trades municipal bonds on Wall Street, said it was either play golf and network that day or stay at the office and work. He never imagined he'd be winning $10,000 by landing an ace.
While getting a hole-in-one is exciting, Davis said, he's realistic about it: "Nobody is talented enough to get a hole-in-one," he said. "It takes skill to put the ball on the green. Getting a hole-in-one is just pure luck." Although another Davis, Mancil Davis, National Hole-In-One's Director of Golf Operations, the PGA's hole-in-one record holder who throughout his career has 51 certified aces!
Bill Davis was one of 88 other golfers playing to win the $10,000 hole-in-one cash prize on 185 yard hole no. 2. This is his first ace. He used a utility 5-iron.
John Lomangino, also a municipal bond trader, said there's nothing like the feeling of getting a hole-in-one. "It truly is unbelievable. It's my first one. I was just trying to get it to the hole. I hit it to the front of the green, and it just rolled in." Lomangino said he had a little help from his caddy, Cesar, who suggested Lomangino use a 3-iron instead of the 5-iron he'd originally chosen.
Event organizer Mike Goin said news of the pair of aces had created so much excitement, the atmosphere was invigorating: "I've been to a lot of sporting events, and this had the most energy that I've ever seen. Someone texted me earlier about the first hole-in-one and I was doubtful. I couldn't believe the next text I got about the double hole-in-one. How do you get two holes-in-one on the same day?"
Meanwhile, 2,800 miles west in sunny California, Brendan Hutchinson and John Borncamp experienced a pair of lightening bolts of their own. Both scored a hole-in-one during the Girard Classic Tournament, a golf scramble at the Woodland Hills Golf Course in Woodland Hills, Calif. More than 100 amateur golfers turned out for the 3-day event. The National Hole-in-One Association covered the payouts of several holes at the tournament each worth $10,000 cash.
This was the second lifetime ace for Hutchinson who has been playing golf since the sixth grade. He made the shot with a 4-iron on hole no. 6 at a distance of 196 yards. Witnesses at the green said the ball landed 10-yards short of the hole, rolled toward the hole and finally inched in. Hutchinson, an investment analyst, said he couldn't see the ball go in but heard the yelling and excitement near the green.
The other ace-maker, John Borncamp scored a perfect shot on hole no. 2 playing at 160 yards. He said he used a 7-iron for his shot that landed 5 yards short of the hole, kicked to the right (thanks to some major side-spin) and rolled in. This is his first ace.
"I thought it was going to be a little bit short; I hit it pretty good, but not perfect," Borncamp said. "I was yelling, 'go go go go.' When it finally dropped in, the witness near the green went crazy.
Borncamp said there was plenty of hoopla over his ace. The foursomes near their play came over to congratulate him. Later in the day, he got a photo with the golf ball at the hole where he made the perfect shot. He's intention before hitting the ball was to beat or at least tie another golfer who'd birdied the previous hole. A hole-in-one would put Borncamp's team in the lead, he said. "He got his birdie, I got the ace," Borncamp said humbly.
Brad Henderson, advertising manager for National Hole-In-Ones stated, "Prize restoration is a very important feature to have when receiving a hole-in-one insurance quotes. Along with other unique benefits such as: Ladies shoot from the Ladies tees, pro-ration of coverage for holes-in-one less than the insured distances, coverage under 130 yards for holes-in-one, and refunds for unused shots with our Traditional contract, makes our coverage the best buy in the [hole-in-one insurance market. Not all hole-in-one insurance is the same. Golf Tournament directors need to know what they are buying!"
National Hole-In-One Association is known throughout the golf world as the "Premier" hole-in-one insurance provider. One of their special attributes within their coverage is the Automatic Prize Restoration feature which restores the prize after each and every hole-in-one so everyone in the golf outing has a shot at the prize offering. Their corporate headquarters is in Dallas, Texas, with offices also in London and Melbourne. Combined with Grand Prize Promotions, the two companies have covered over 300,000 events and have paid out close to $60 million in cash and prizes.
Established in 1981, National Hole-In-One Association is the largest, most experienced and respected hole-in-one insurance prize provider in the world. Grand Prize Promotions was founded to continue this tradition of excellence in servicing unique insurance coverage's with "attention-grabbing prize insurance" business contracts beyond hole-in-one contests. Their expertise is in specialty insurance prize programs designed to be fun, cost effective promotions for the automotive industry, jewelry stores and other retail industries, tradeshows, sporting events, direct mail campaigns, online contests, radio and television campaigns.
They also provide weather insurance (rain, lightning, wind, adverse conditions) and event cancellation insurance for venues in the United States and throughout the world.