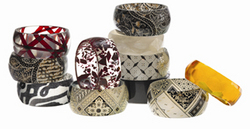 New York, NY (PRWEB) September 29, 2009
With a festive season of events just around the corner, GeoArt by Cynthia Gale has every fashionista covered with affordably stylish Bali Holiday bangles.
Introducing a new line of Bali Holiday bangles for unique holiday gifts or holiday party accents, GeoArt by Cynthia Gale, known for original Bali-inspired jewelry, has created a new item now available at select stores.
"Black and white batiks hand-painted gold to add flair to match your outfit for every occasion and hand painted gold adds sparkle to your look. Red ribbon and red shard bangles add a fun touch to the collection and look great stacked with batiks or silver and gold bracelets," says Olga Gonzalez, Sales and Marketing Manager of GeoArt by Cynthia Gale.
Two sizes and a variety of shapes are available, including round, faceted and square bangles. Inspired by the batik fabrics of Indonesia, which are created using wax-resist dyeing techniques, Cynthia has sourced exquisite fabrics for the collection. Each bangle is made of Bali batik, which is hand set in resin; and each fabric is cut along a different length, ensuring every bangle is unique.
Says Cynthia Gale of her Bali Holiday bangles, "I have always been enchanted by the richness of handmade textiles. Bali Holiday represents the finest that Balinese batik has to offer translated into this holiday season's hottest trend: layers of stackable bangles in rich, geometric patterns. Wrap Balinese batik tradition around your wrist for the holidays!"
More information about the exclusive Bali Holiday bangles is available by contacting Olga Gonzalez at 212-481-1845. Original jewelry and fashion accessories from GeoArt by Cynthia Gale can be seen at the GeoArtNYC.com website.
About GeoArt by Cynthia Gale:
Cynthia Gale specializes in artisan-crafted sterling silver jewelry. Her signature collections are licensing partnerships with over fifteen of the nation's top museums and cultural institutions, and the GeoArt by Cynthia Gale line has evolved with ideas reflecting the rich cultural diversity of New York City and Cynthia's passion for it. The GeoArt philosophy is simple: to create exquisite, quality sterling silver jewelry designs inspired by art and the world around us.
###