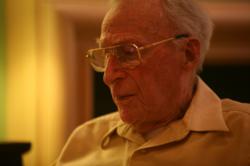 Family caregivers who are alert to the signs and follow up to check whether their older loved ones have the support they need during the holidays can ensure that their seniors are happy and healthy during this special season. -- Jeff Huber
Omaha, NE (PRWEB) October 13, 2011
The holiday blues: anyone can be impacted during such a stressful time of year. But seniors who recently lost a spouse or who are living alone miles from family may experience something much more serious that could negatively impact their health. Separate studies found that women who suffer from diabetes and depression have an increased risk of death from all causes, while men who are depressed are twice as likely to die as women.1
"The holiday season should be a happy time for older adults, but so often it's not," said President and Chief Operating Officer (COO) Jeff Huber of Home Instead, Inc., franchisor of the Home Instead Senior Care® network. "That's why companionship for seniors plays such a vital role before, during and even after the holiday season."
Both family and professional caregivers often notice a change in older adults as the Thanksgiving, Hanukkah and Christmas seasons approach. For instance, the holidays were just around the corner and Gloria Ramsey, a CAREGiverSM from an Omaha, Neb., area Home Instead Senior Care office, saw the signs in her client immediately. "She was depressed from a fall and just starting to come out of it." So Ramsey tried to coax her into sprucing up the house. "She just didn't think she could do it," the CAREGiver said. "She told me, 'If you get all the decorations out, you'll have to put them all back.'" So Gloria hauled one box after another from the elderly woman's garage. And with each new decoration that Gloria pulled out, she saw her client's blue mood lift.
"Now, as soon as Thanksgiving is over, we need to decorate," Ramsey said. "Most of the decorations she's had for years, but we've also added to the collection with a few new pieces."
As CAREGivers like Gloria know, companionship is so important to older adults. So is recognizing the signs of depression. As part of the Home for the Holidays program from the Home Instead Senior Care network, following are signs of loneliness and depression to look for in a senior this holiday season:
1. Losing or gaining weight – Check the refrigerator, freezer and drawers to make sure she has plenty of nutritious food. Also, check out the resources of the Craving CompanionshipSM program, which provide tips on nutritious eating and mealtime companionship.
2. Difficulty sleeping – Look for signs that he has more trouble focusing during the day and is fatigued more often.
3. Being agitated or irritable – The source of the irritability could be boredom. Help your loved one plan a schedule of appropriate activities.
4. Lack of energy – Encourage her to see a doctor for a complete physical.
5. Feelings of sadness – Try to locate resources to help ensure that he has companionship and appropriate activities.
6. Losing interest in activities that she's always enjoyed – If she has difficulty with those activities, look for ways to modify them so that she can still enjoy doing the things she's always loved.
7. Feelings of worthlessness – Many seniors volunteer. Encourage him to make an effort to find a niche in the community.
8. Difficulty thinking or concentrating – Make sure that he has plenty of mental stimulation. Word games and crossword puzzles can help keep an older person's mind alert.
9. Losing interest in personal care and hygiene – Is she unable to take care of her home? Perhaps more assistance is needed.
10. Thoughts of suicide – Contact a mental health professional immediately.
To learn more about how to spot the signs that an older loved one may need extra help, attend the free Home Instead Senior Care Home for the Holidays webinar offered on Nov. 15 and again on Dec. 5, 2011
ABOUT HOME INSTEAD SENIOR CARE
Founded in 1994 in Omaha by Lori and Paul Hogan, the Home Instead Senior Care® network is the world's largest provider of non-medical in-home care services for seniors, with more than 900 independently owned and operated franchises providing in excess of 45 million hours of care throughout the United States, Canada, Japan, Portugal, Australia, New Zealand, Ireland, the United Kingdom, Taiwan, Switzerland, Germany, South Korea, Finland, Austria, Italy and Puerto Rico. Local Home Instead Senior Care offices employ more than 65,000 CAREGiversSM worldwide who provide basic support services – assistance with activities of daily living (ADLs), personal care, medication reminders, meal preparation, light housekeeping, errands, incidental transportation and shopping – which enable seniors to live safely and comfortably in their own homes for as long as possible. At Home Instead Senior Care, it's relationship before task, while continuing to provide superior quality service that enhances the lives of seniors everywhere.
References
1. Women with Both Diabetes and Depression at Higher Risk of Dying from Heart Disease, Other Causes
Age, Gender May Determine Impact Of Depression, Mortality Link
###