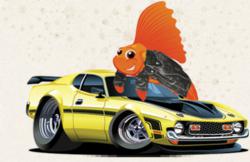 An amazing gift this year would be getting out from under debt, getting it under control.
Philadelphia, PA (PRWEB) November 30, 2012
RoadFish.com men's lifestyle and finance magazine today issued their statement regarding the National Retail Federation's (NRF) holiday forecast that spending in the 2012 Christmas season will be up by 4.1% from last year, and that consumer-spent money will hit $586 billion. RoadFish.com offered tips to those consumers who may feel buried under debt during the holidays, including encouraging the use of debt tools to stay on track.
Last year, the NRF discovered that consumers had spent more than was expected on Black Friday and the accompanying weekend. America's Research Group estimates that for Black Friday 2012, 22.5% of consumers have used credit cards to pay for their purchases—even though some of these shoppers are still working on paying down last year's debt.
RoadFish.com understand the pressures of shopping during this season of gift-giving, and has offered tips in the past to help consumers stick to a budget and avoid overspending. Today, RoadFish.com focuses on providing advice to those people who are currently struggling with debt and trying to stay afloat. RoadFish.com's Senior staff writer is quoted as saying, "It's certainly a busy time of the year, but the longer debt goes unhandled, the more it grows, the higher the interest fees get, the more burdensome it feels. An amazing gift this year would be getting out from under debt, getting it under control. And there are lots of tools available to consumers these days that I would encourage looking into, things like debt calculators and the Score Planner Free Credit Score has. These things may sound corny or cliché, but they can be the kick in the tush some people need to get their act in gear."
RoadFish.com suggets YouCanDealWithIt.com's debt calculator, an online tool that can aid consumers in discovering how much money and time can be saved if the monthly payments were increased, and how much consumers can afford to up their payments. Likewise, Experian's score planner offers a peak into how different scenarios will impact one's credit score.
According to the above-mentioned Fox 43 article, the NRF is projecting that a total of $586 billion will be spent by consumers when all is said and done this holiday season, which would mean an increase in 4.1% from last year's spending. ClearPoint Credit Counseling Solutions is recommending that consumers put a halt to charging their credit cards, and work on transferring their current balances to a card that has a low interest rate.
A Fox 43 news clip prompts consumers to know when to say "no" and to keep emotions out of shopping, working only off of a fixed list to avoid excessive spending and the possibility for adding to debt. The Pennsylvania news station also heeded against waiting for a tax return in March or April of next year to pay down incurred holiday debt, but rather to start the new year off making monthly payments to chip away at the balance due.
About RoadFish.com
RoadFish.com lifestyle and finance magazine is an online men's magazine that regularly includes articles pertaining to travel, lifestyle, and finance. RoadFish.com's followers tend to be male readers in their 30's and 40's that have already accomplished professional and/or personal goals, and are seeking out their next big aspiration. RoadFish.com magazine features articles on men's luxury items, hot chicks, and helpful travel websites. It also commonly hands out dating tips as well as financial advice, such as how to improve one's credit score. RoadFish.com is owned and operated by Purpose Inc.