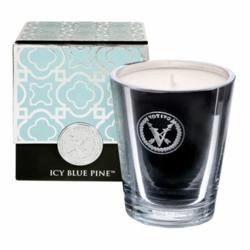 From Christmas collectibles like Christopher Radko Ornaments to faux furs from Donna Saylers Fabulous-Furs to the fabulous Papaya Art 2012 Planners... there truly is something unique and special for the women on your list
Atlanta, Georgia (PRWEB) October 31, 2011
Online home decor and gift boutique, Peace, Love & Decorating (PLD), announces its Top 10 Holiday Decor and Gift Guide recommendations for the 2011 Holiday Season with great gift ideas for women.
"Gifts that make our Holiday Gift Guide are the boutique gifts that we want to give and receive," says PLD Co-founder, Jana Contardi. "From Christmas collectibles like Christopher Radko Ornaments to faux furs from Donna Saylers Fabulous-Furs to the fabulous Papaya Art 2012 Planners and Calendars... there truly is something special for the the women on your list," adds PLD Co-founder, Jennifer Cook.
Fabulous Faux Fur
Donna Saylers Fabulous-Furs introduces a guilt-free concept and approach to fur fashion with a luxurious alternative to real fur coats, jackets, vests, hats, throws and accessories. Classic, timeless style and design with affordable pricing on faux chinchilla, sable, leopard, white and black mink and more. Those who love fashionable furs and accessories can, along with well-known Hollywood celebrities and top fashion models, will enjoy an incredible gift from Fabulous-Furs knowing that no animals are unnecessarily harmed! Check out the glamorous Fabulous-Fur throw that Kim Kardashian and hubby Kris Humphries received as a housewarming gift. No more real fur in her new life as Mrs. Humphries….. She has decided to only go with faux. Wrap your favorite person up this gift-giving season with one of Donna Saylers Fabulous-Furs.
Papaya Art 2012 Weekly Planners and Calendars
Papaya Weekly Planners make a great holiday gift for the busy Mom or career gal on the go. Enjoy being more efficiently organized throughout your busy daily schedule by utilizing this uniquely designed planner available in four new vibrant cover designs with gold foil accents and convenient elastic closure. Interior planner pages feature weekly planner format and fifty-two new coordinating weekly plan pages. Interior elements include a six pocket accordion storage folder, slide-out spiral planner, elastic band closure, and extra pages for personal notes. New compact size for 2012 - 6 x 8 inches.
Christopher Radko Ornaments
Share our love of 2011 Christopher Radko Christmas ornaments. Christopher Radko has been creating holiday collectible ornaments for more than a quarter of a century and remains the premier designer and producer of heirloom glass ornaments. Radko continues it's dedication to supporting charities with new 2011 Radko Charity Awareness ornaments representing Breast Cancer, Pediatric Cancer, Aids, Heart Disease, Animal Charities and Alzheimer's to name a few. Start a tradition for a family member or close friend by giving a Radko Limited Edition or dated ornament this holiday season. After starting a Radko Collection everyone looks forward to the memories each Radko piece brings for Holiday seasons year after year.
Papaya Accessory Pouches
Papaya Accessory Pouches available in a variety of designs. Women love to organize all of their necessities with these fashionable pouches offered in small and large sizes. Perfect for daily use with toting cosmetics and other health and beauty items as well as art supplies and tech gadgets. Traveling is made easy with the large accessory bag having room to pack for extended time away from home. Each pattern is wipeable and unique in design. includes a fabric lined interior that is wipeable and a durable zipper closure embellished with a stamped metal lotus charm. Women love the versatility of these popular pouches.
Poo-Pourri Home Fragrances
Need a good hostess gift? Poo-Pourri toilet deodorizers are always a hit! Unlike most bathroom spray and toilet deodorizers that try and mask the sticky poop smell after it is in the air, Poo-Pourri is designed to be sprayed directly onto the toilet bowl water before you go. Poo-pourri toilet deodorizer does more than just improve air quality - it is environmentally friendly. Secret blends rely on essential oils to eliminate bathroom odors making it safe for the planet and the septic. Give this toilet deodorizer to all of your friends and let them find out what should be missing when using the bathroom
Shannon Koszyk Jewelry
Shannon Koszyk Jewelry - Shannon has personally designed this beautiful vintage jewelry line which was religiously inspired by the classics. Hand made by artist using Sterling Silver, 14K Gold fill, Bronze and Antique Brass. All stones are hand-cut, semi-precious or precious stones including: Fresh Water Pearls, Turquoise, Garnet, Onyx and more. Much of this unique jewelry line is unisex and has been seen worn by Steven Tyler and other celebrities alike. Each piece is custom made to order so plan ahead for that special person this holiday season by ordering a one-of-kind Shannon Koszyk design sooner than later!
Ditz Designs by Hen House
Ditz Designs offers an array of great gifts from table top and life sized Father Christmas pieces to the ever popular Tree Bears. Each make great gifts and very often become treasured family heirlooms. These wonderful works of art are designed and created by Ditz extended-family artisans and enjoyed around the world because of their imaginative, charming and heartwarming character and quality. Amazing attention to detail adds to the realism as well as their ability to draw people into an enchanting work. For any person that loves to decorate their home or business for the holidays Don't miss the opportunity this season to add warmth and style to their holiday decor with Ditz Designs by Hen House.
Votivo Holiday Scented Candles
Searching for the perfect teacher gift? Here is a great one! Votivo Candles, soy based with a slow, clean burn. These candles are available in six variety of scents all of which will fill any home with holiday spirit. The Votivo packaging is as distinctive as the candle itself. Each candle is hand-wrapped and each seal is hand-pressed before placing the candle in the impressive decorative box. All you have to do is tie a ribbon around the box and you have a beautifully packaged gift.
Fresh Magnolia Wreaths
What better gift to give to a business associate, family member in another city or to your own family than a fresh Magnolia Wreath shipped free to your door. The Magnolia Company has also has beautiful dried wreaths, centerpieces and garland.
Jewelry Displays and Organizers
Jewelry holders and displays can certainly be viewed as being a practical gift but at the same time you can add interest to ones dressing area with what will appear to be an "old-find". Distressed vintage style and finish with three metal tiers this jewelry holder that stands 17 1/2" high, very sturdy and designed to hold earrings, necklaces, bracelets and more. Make an huge impression, at an affordable price, on the one that receives the Creative Co-op Yellow Bird Jewelry Holder.
Peace, Love & Decorating boutique offers home decor, designer lighting, luxury bedding, home furnishings, holiday decor, boutique jewelry, fashion and lifestyle accessories plus unique gifts for women.
###