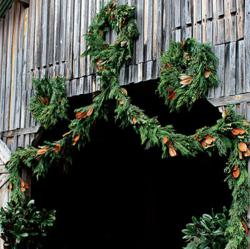 Over the years, we have discovered an array of boutique holiday decor lines ranging from heirloom collectible glass Christmas ornaments such as Christopher Radko to vintage-inspired, Old World Christmas lines such as Cody Foster
Atlanta, Georgia (PRWEB) September 30, 2011
With the holiday season just around the corner, Peace, Love & Decorating, a leading online home decor boutique retailer, is excited to announce its holiday decorating boutique. Peace, Love & Decorating (PLD) co-founders, Jennifer Cook and Jana Contardi, begin to focus on holiday decor several years ago while participating in Holiday Show Homes. As established interior designers in the Atlanta-area, Cook and Contardi's work has been featured in various Charitable Holiday Show Homes.
"Over the years, we have discovered an array of boutique holiday decor ranging from heirloom collectible lines of glass Christmas ornaments such as Christopher Radko to vintage-inspired, Old World Christmas lines such as Cody Foster. Our love of holiday decorating has inspired us to shop and hand-select our featured items which cannot be found at mass retailers," explains Cook.
Ditz Designs by Hen House is one of Cook and Contardi's favorite lines of holiday decor. First discovered in early 2003, Ditz Designs specializes in life-size Father Christmas and Holiday Santa figures as well as the Tahoe Tree Bear which has been a PLD best-seller for years.
Inspired by their love of religious and vintage items, Cook and Contardi both favor nativity scenes. Early customer favorites are the Driftwood Nativity from Roost and the large, vintage nativity from Cody Foster.
Holiday fragrances and scents always invite the memories of the Christmas' past. Christmas Sage from Votivo Candles and the scent of Cinnamon Bark from Ergo Soy Candles create images of preparation for the gathering of family and friends.
Following the use of fresh Magnolia wreaths in a 2003 Show House, PLD has continued to carry The Magnolia Company each holiday season. The Magnolia Company's product line includes dried and fresh magnolia wreaths and garland that are shipped directly to your door or the door of a gift recipient.
Christopher Radko continues to be a featured line of collectible Christmas ornaments, and PLD has been an authorized Radko retailer since 2004. PLD's Radko ornaments offerings include Limited Edition Ornaments, dated ornaments, Charity Awareness Ornaments and Retired Ornaments.
Peace, Love & Decorating is an Atlanta-based e-commerce boutique offering holiday decor, home accessories and decor, designer home lighting, luxury bedding, boutique jewelry and unique gifts for women.
###