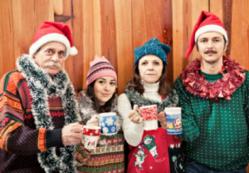 Festive doesn't have to mean frumpy. No woman wants to kiss a man in a vulgar sweater, no matter how much mistletoe he's standing under
San Francisco, CA (PRWEB) December 24, 2011
In an effort to keep American men away from bad holiday fashions, this week's Ties-Necktie.com Men's Fashion Blog is dedicated to helping men stay in style during the season of tackiness. Available at http://www.ties-necktie.com/blog/wrapper.php?/archives/462-Holiday-fashion-Faux-Pas.html, the blog offers tips on out to sidestep fashion faux pas, while suggesting alternative attire ideas for the holiday fashion-challenged.
From those awful kitschy Christmas sweaters, to gaudy checkered socks, to puffer coats that look like sleeping bags, there are many ways for a man to make regrettable garment choices. The blog advises readers to skip any sweater with a reindeer, pine tree, snowman or snowflake on it. If he doesn't want to look back at photos of Christmas 2011 in ten years and wonder "What was I thinking?", Ties-Necktie.com has the solution. The site's blog will take readers from tacky to trendy in minutes, just in time to save them from showing up to Christmas dinner with a Santa hat on.
Instead of wearing terrible, cheesy tinsel scarves, men can light the Christmas tree in any one of Ties-Necktie.com's 3,000+ chic and stylish silk neck ties and accent it with a tie bar. Better yet, a unique and sophisticated look for the holiday season is the ascot, which is available in a variety of colors at Ties-Necktie.com. The site carries popular luxury men's accessories brands including Parsley, Laco, Cavallieri, Chevalier, Tino Cosma, Atkinsons, Fiorio and Mont Pellier from countries like Italy, France, Germany and Ireland, all at affordable prices.
"Festive doesn't have to mean frumpy. No woman wants to kiss a man in a vulgar sweater, no matter how much mistletoe he's standing under," said Ties-Necktie.com founder Hendrik Pohl. "There are far better ways to express plenty of holiday cheer and still look polished, classy and smart."
The blog advises readers to avoid unflattering down puffer coats in favor of sleek and stylish wool coats. Putting forward that puffer coats can make even the most svelte make look like he's the size of Santa Claus, the blog suggests the classic peacoat as an alternative. Wool coats can accentuate the best parts of the male form and they are still warm, comfortable and weather-appropriate. As a general rule, if a man wouldn't fit down a chimney in it, he shouldn't wear it.
###