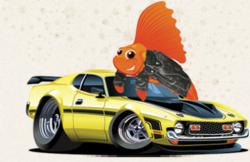 San Francisco, CA (PRWEB) December 09, 2012
RoadFish wants everyone to enjoy the holidays without paying hefty financial prices after the New Year. The Black Friday season is a time of lavish spending for many households, but some families have taken to more frugal forms of gift giving. Recently, spending forms have been introduced that allow people to calculate their spending budgets for Christmas.
In light of the recession, many people are limiting their gift shopping down to immediate family members. Exceptions to the rule are the little nieces, nephews and cousins, who are generally accommodated with small gifting budgets in the $10 range. Between spouses and children, modest households are limiting things down to one big gift per person.
No child can miss what he or she has never known. Therefore, children who have never been spoiled with gifts will not know the difference when holiday budgets tighten. Buying a child one or two gifts for the holidays will seem normal to any child raised in such a way, regardless of whether the limits are set by finances or frugality.
Spouses, meanwhile, are typically on the same page when it comes to finances. Adults, after all, can generally buy most of the things they want for themselves at any time of the year. As Christmas heads into New Years, the most important things to most adults are financial security and quality time with loved ones. With all those things considered, a lot of spouses are limiting their spending to $50 on one another.
RoadFish believes that all families can make each Christmas a time to remember, regardless of a given household's current financial situation. When parents buy gifts in moderation from the start, children grow to appreciate the things they receive for the holidays. RoadFish shares various methods that parents can explore to make the holidays more exciting for everyone in the family. From decorating tips to baking recipes, there are countless different things that families can do to make the holidays new and interesting each Christmas.
About RoadFish.com
RoadFish.com men's lifestyle and finance magazine is catered towards male readers in their 30's and 40's, most of who tend to be highly motivated individuals who seek out challenges and adventures with enthusiasm. RoadFish.com magazine offers advice on how to manage personal finances, in addition to managing credit and holiday debt advice. RoadFish.com is owned, and operated, by Purpose Inc.