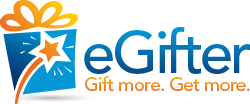 eGift cards are a popular and convenient holiday gift, and using eGifter to send them makes it fun and social
Melville, NY (PRWEB) December 05, 2012
Today, eGifter, the social gifting service of GroupGifting.com, added eight new brands including 1800Flowers.com, CVS/pharmacy®, and Build-A-Bear Workshop, just in time for the holiday gift-giving season.
The timing couldn't be better. The National Retail Federation's (NRF) 2012 holiday consumer spending survey shows that 81.1 percent of shoppers will purchase at least one gift card this holiday season. Total spending on gift cards will reach $28.79 billion.
"eGift cards are a popular and convenient holiday gift, and using eGifter to send them makes it fun and social," said Tyler Roye, President of GroupGifting.com. "Our members and our retail partners all benefit from our social gifting model."
The other brands newly available on eGifter are Legal Sea Foods, CanvasPop, Red Robin, Lobster Gram, and 1800PetSupplies.com.
eGifter offers eGift cards on almost one-hundred brands with deals in place to add more than 100 other brands in the coming months, which users can give as gifts or keep for themselves. When given as gifts, eGift cards are posted to the recipient's Facebook wall on a specified date. Their Facebook friends can join in by making a contribution of their own, turning it into a group gift. Specific contributors can also be invited via email and SMS, both on the web and via the eGifter mobile app for iOS and Android. "We have users setting up gifts for Facebook wall delivery on Christmas day. Imagine the extra surprise when the lucky recipients logon to Facebook that day and see some additional gifts they did not know they were getting," added Roye.
eGifter's social gifting campaigns can be used as a tool for retail brands to monetize prior social investments by activating a powerful social chain reaction through their own fan base.
"Our partners can use eGifter to launch innovative campaigns such as a "Give-one, Get-one," which is a great way to deliver loyalty while acquiring new customers," said Roye. As with all of the company's services, retailers only pay a fee for the service when the recipient uses the eGift Card, making it a true Cost-Per-Acquisition model.
Retailers interested in learning how GroupGifting.com can help them accomplish their social and mobile commerce goals can visit http://www.groupgifting.com/retailers/.
About GroupGifting.com
GroupGifting.com develops innovative social and mobile technologies designed to revolutionize the act of gift giving. Our offerings create a fun and social experience for consumers while helping retailers unlock the viral potential of gift giving in social spaces. Founded in 2011 by a group of proven tech entrepreneurs, GroupGifting.com is based in New York. Visit eGifter at http://www.eGifter.com.