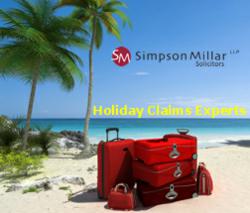 We have seen people arrive back to Britain with serious gastro-intestinal holiday illness after staying in a 5-star resort.
Manchester, UK (PRWEB UK) 20 February 2012
Nick Harris, Holiday Travel Law Expert at Simpson Millar announces results of investigations into why peoples' once in a lifetime holidays can turn sour. Many people may think that a holiday illness or injury abroad simply means they were unlucky, but our research and experience shows that they are more often than not the victims of a growing culture of complete disregard for hygiene standards.
Many people think that they were simply unlucky or a little frailer than everyone else. However Simpson Millar's dedicated holiday travel law team has identified disease hotspots where ill staff are made to work, and a lack of inspections and scrutiny allows serial offenders to remain open to unsuspecting holidaymakers.
"It isn't merely a coincidence that holiday makers have returned with serious holiday illnesses from the same resorts and destinations month after month. We are dealing with either unscrupulous or incompetent hoteliers and resort managers who are willing to accept that their venues are poorly sanitised and potentially dangerous to guests," says Nick Harris who is head of the Travel Law team at Simpson Millar Solicitors.
Cuba, the Dominican Republic and Mexico score the highest when it comes to leaving holiday makers suffering from common holiday illness bugs such as salmonella poisoning, shigella and campylobacter. For Cryptosporidium holiday illness bug, simply visit the Costa del Sol, the Canary Islands or the Balearic Islands.
Nick adds: "It is wholly unacceptable that little or nothing is done to reprimand or, if necessary, close down resorts which continue to disregard basic hygiene requirements. When a family has spent a year's savings on their dream holiday they should rightfully expect that every care and attention has gone into ensuring their health and wellbeing."
According to Nick, stars are not always a measure for how clean and safe a venue really is. "We have seen people arrive back to Britain with serious gastro-intestinal holiday illness after staying in a 5-star resort. Poor hygiene is an industry-wide issue and something has to be done about it."
For some people a bad stomach, diarrhoea or a mild case of nausea might not be the end of the world but for children, the elderly and people with pre-existing medical conditions, a bacterial infection can be extremely serious; even life-threatening.
"Some hotels are reluctant to allow sick staff to take time off and demand that they continue working – cooking, cleaning and serving drinks – fully aware that they could be exposing unsuspecting holidaymakers. " Nick continues..
"Despite numerous reports about guests falling ill on holiday, some tour operators continue to send people to stay in resorts which have been flagged as contaminated," says Nick. "Operators and resorts that fail to deal with inadequate hygiene standards should be firmly penalised. As it stands a growing number of holidaymakers end up spending their vacations in hospital rather than on the beach and little seems to be done about it."
Simpson Millar Solicitors are a national law firm who specialise in recovering compensation for victims of holiday food poisoning and illness whilst on package holiday and accept cases on 'no win no fee' terms. If you mention 'Claim250' when making your enquiry then you can look forward to gaining a £250 bonus payment upon acceptance of your holiday claim.
Simpson Millar have 10 offices throughout England and Wales, over 150 years experience and are accredited with the Investors in People, Diversity in Business and Lexcel quality standards.
###