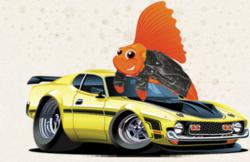 Seattle, Washington (PRWEB) November 13, 2012
RoadFish.com men's lifestyle and finance magazine today released their criticism of MSN's encouragement of consumer credit card use for holiday gift purchases. MSN Money recently ran an article comparing and contrasting several cards that offer cash back rewards and in-store discounts. RoadFish.com's take on this may be of use to consumers by pointing out the downside to shopping exclusively with a credit card this season.
Card Hub's Odysseas Papadimitriou contributes to MSN Money with his article that compares and contrasts the perks of at least five different credit cards intended to appeal to consumers because of the potential for savings during high-shop times, like the holidays. Papadimitriou states that many cards are offering sign-up bonuses, cash back incentives, and 0% introductory interest rates. The author fails to acknowledge, however, the annual problem of consumers coming out of the holiday season with excessive amounts of debt. Not to mention the hit that their credit reports would take upon applying for one of these money-saving holiday-recommended credit cards.
RoadFish.com disapproves of the encouragement of consumers to put all holiday spending on credit cards, stating that it is easier to overspend and get buried in holiday debt that way. RoadFish.com's Senior staff writer is quoted as saying, "I think that putting purchases on a credit card if you have the ability to pay it off at the end of the month is smart. In this way, it establishes credit, proves that you are a trustworthy borrower, and yes opens the door to cash-back options and other perks. However shopping exclusively with a credit card this holiday season with no ability to pay it off right away is just about the worst thing I think somebody could do to their personal finances. Consumers have to be honest with themselves about their spending abilities this season, otherwise the new year is going to bring about a cold hard reality of added debt."
The above-mentioned MSN Money article sings the praises of cards like the Blue Cash Preferred Card from American Express, which offers 3% on gas station and department store transactions, 6% cash back on supermarket purchases and 1% cash back for all other purchases. Papadimitriou writes that the $75 annual fee becomes a wash if the borrower spends at least $1,000 within the first three months, because they will qualify for a $150 bonus. He also talks up the Chase Sapphire Credit Card, which gives cardholders a 40,000-point bonus—IF they spend at least $3,000 during the first three months.
RoadFish.com sees these perks as incentives for consumers to spend more money, not less. RoadFish.com's Senior staff writer is quoted as saying, "With many of these cards, you have to spend a ton of money—potentially more than you normally would on gifts and everyday spending—in order to even get the bonus. That's a little backwards if you ask me."
MSN Money does affirm in the above-mentioned article that on average, holiday shoppers are expected to spend roughly $749.51 this holiday season, a number that comes from the National Retail Federation's math. In addition, it is reported that Americans as a whole are projected to have racked up an additional $43.5 billion in credit card debt from now until the end of the year.
About RoadFish.com
RoadFish.com is an online men's lifestyle and finance magazine that also features articles on travel, lifestyle, and top online dating sites for men. RoadFish.com readers tend to be men in their 30's and 40's with a zest for life and a passion for regularly setting new goals and achieving them. RoadFish.com men's often runs pieces focusing on luxury items for men, vacation ideas, hot chicks, and valuable personal finance advice such as how to earn a high credit score. RoadFish.com is owned and operated by Purpose Inc.