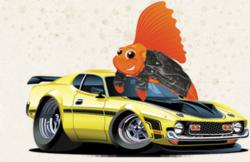 Don't get sucked into a deal just because it's being offered at a low price. And don't be afraid to be thrifty this year!
Los Angeles, CA (PRWEB) November 28, 2012
RoadFish.com men's lifestyle and finance magazine today released their observations on consumer spending over the holiday season and offered sound personal finance tips for shoppers. The online magazine referred to a recent Sacramento Bee article that presents some shopping advice for consumers to avoid overspending, and imparted their own words of advice so that consumers may walk away from the busiest shopping season of the year with minimal debt and a virtually untouched credit score in the process.
Claudia Buck of the Sacramento Bee points out that shoppers are bombarded with sales and opportunities to spend money during this time of year, namely this past weekend with Black Friday, Small Business Saturday, and Cyber Monday. Retailers boast low prices, get-it-now deals and limited-time-only sales to tempt consumers. Buck dishes out advice such as sticking to a shopping list, using mobile apps to find truly good deals, and being honest about what actually needs to be purchased this season. Buck encourages shoppers to start with writing a list of each person to be gifted, and figuring out how much can comfortably be spent on each person. The managing editor for GoBankingRates.com, Casey Bond, is quoted as saying, "A list helps you prioritize how much you can realistically spend for the season. Sit down, make that plan: This is how much I really want to spend."
RoadFish.com is highly in favor of making—and sticking to—a shopping list, and goes a step farther by urging consumers to figure out their disposable income before buying even a single gift. RoadFish.com's Senior staff writer is quoted as saying, "It's crucial to first discover how much money is available to you to put towards gifts, which can be figured out easily by subtracting bills and other monthly purchases from your take-home income each month. What's left over is what you've got to work with. Figure out that number, and then proceed to divvy up the funds for each person you're planning to shop for. Paying with a debit card or cash can help you stick to your budget, since you literally cannot overspend without over drafting. Paying with credit cards has far more ramifications than simply overspending, as your credit can also take a hit when you start creeping towards the allowed maximum limit on your credit cards."
Additional tips offered by RoadFish.com include avoiding opening new lines of credit, which can seem appealing because of the initial discount on purchases but carry high interest rates and will damage one's credit score in the long run, and shopping smartly.
RoadFish.com's Senior staff writer is quoted as saying, "People get sucked into buying things because it's on sale. Keep in mind that if you buy it on sale but pay with your credit card, the interest rates may actually be higher than the money you've saved if you can't afford to pay it off in the next month or two. Don't get sucked into a deal just because it's being offered at a low price. And don't be afraid to be thrifty this year! It's not necessary to get competitive with gifts or decorations, though it is easy to get sucked into playing that game. It may sound really corny, but remember what the season is about and give from the heart even if it's not necessarily from the wallet."
Buck's article recommends stashing all receipts from the holidays in one place that is easy to find and access, in case items need to be returned or rebates mailed in later on. GoBankingRates.com's Bond is quoted within the article as stating, "It's so easy to get caught up in the consumer side of the holidays. The best thing is to stick to your budget and not set yourself up for a debt hangover in January. Just because it's a great deal, doesn't mean you need it."
About RoadFish.com
RoadFish.com men's lifestyle and finance magazine features stories on men's luxury items, tips for dating women, restaurant reviews and travel advice. The publication is targeted towards male readers in their 30's and 40's and looks to draw followers who are go-getters, constantly striving towards a new goal or ambition. RoadFish.com also produces helpful articles related to finance and personal finance, such as how to avoid a damaged credit score.