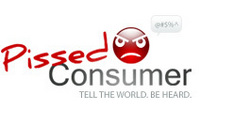 As a consumer advocacy Web site we see a lot of consumer complaints
New York (Vocus) October 26, 2009
U.S. consumer advocacy and customer complaints Web site, PissedConsumer.com, offers free holiday shopping tips to make the holiday season less stressful for consumers. The holiday shopping tips are designed to help consumers find better deals on what they want, shop safely amidst the hustle and bustle of the holiday season, and save time in the process.
"As a consumer advocacy Web site we see a lot of consumer complaints," said Joanna Simpson of PissedConsumer.com. "We get a glimpse into some of the biggest, and most common, shopping nightmares. As if they aren't bad enough, those customer service and other problems can feel magnified under the stress of the holiday season in general. There are sales messages shoved in the faces of consumers everywhere they go. There are crowds to navigate through. There are countless other things people need to do. They don't have time for holiday shopping hassles. Our free tips on stress-free holiday shopping can help."
After evaluating countless consumer complaints, PissedConsumer.com has compiled a collection of holiday shopping tips to make the season easier, starting with the tips below:
1. Don't get product information from salespeople. Do research before going to a store to make a purchase. A salesperson's job isn't to tell someone everything they might want to know about a product. Their job is to get them to part with their money and make them feel comfortable about doing so.
2. People should try to know what they want before going into a store. Doing so can result in less buyer's remorse and fewer impulse buys.
3. Ask for price-match guarantees to be enforced. Many larger stores offer these guarantees, but they won't automatically give the discounts to consumers. They only price-match when asked to.
Consumers can find more holiday shopping tips from PissedConsumer.com at http://www.pissedconsumer.com/consumer-tips/smart-consumer/save-money-time-and-stress-on-everything-you-buy-20091009158966.html
About PissedConsumer.com
PissedConsumer.com is a premier consumer advocacy group, featuring consumer reviews and complaints in a social networking environment. The company uses online tools to publicize reviews and complaints filed by consumers on the Internet. In addition, the site offers a set of free tools necessary to bring the dispute to a fast and successful resolution, including a consumer complaint letter generator and collection of consumer tips and advice in the site's consumer advocacy section.
For more information about PissedConsumer.com, please visit PissedConsumer.com or contact Joanna Simpson at 262-674-6466.
###