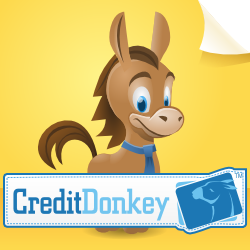 tips to save money during the holidays
Los Angeles, CA (PRWEB) November 07, 2011
More consumers are looking for a good value during this holiday season according to a new infographic analysis from CreditDonkey, a credit card comparison website.
Infographic: http://www.creditdonkey.com/holiday-shopping-trends.html
The infographic cites price being the most important factor to 63% of holiday shoppers, according to a study by Harris Interactive. With over $30 billion in sales through electronic shopping and mail order houses according to the US Census Bureau, consumers are flocking to online deals.
"Free shipping deals, convenience and more variety are just a few reasons why more consumers are opting to shop with their mouse this year," says Charles Tran, founder of CreditDonkey. "Not to mention, there is no need to worry about traffic or the cost of gas and dining out when you shop online."
Online holiday shopping increased 15.2% in 2010 compared to 2009, according to a recent study by the National Retail Federation. In addition, special days such as Thanksgiving, Black Friday, Cyber Monday and Super Saturday attracted substantial crowds and significant discounts.
Visit http://www.creditdonkey.com/holiday-shopping-trends.html to view the full infographic on holiday shopping trends, including: Black Friday statistics, where consumers will shop this year, what shoppers are spending their money on, and how they are spending their time.
The folks at CreditDonkey also recommend these tips to help save money during the holidays in these tough economic times:

Focus your spending on immediate family members and less on coworkers and acquaintances.
Credit cards usually offer more security and protection than debit cards. Use a no fraud liability credit card to get peace of mind and protect yourself from unauthorized charges.
Make sure gift cards are legitimate. Scammers often email faux free gift card offers during the holidays. If it looks too good to be true, it probably is.
Safeguard your account information. Do not give out personal information to fraudulent sources. During the holidays, callers and emailers often pose as banks, retailers, credit card companies, and even charities to scam unsuspecting consumers.
View your credit card statements regularly to make sure there are no fraudulent purchases.
Consumers can visit CreditDonkey to compare credit card deals before their next holiday shopping spree. Rewards may vary significantly between credit cards, so it is always best to compare at CreditDonkey to get the best rewards.
###