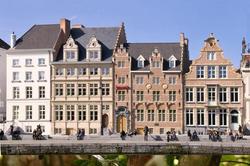 Bethesda, MD (PRWEB) October 24, 2008
Just in time for the holidays, Marriott International (NYSE:MAR) offers great hotel travel specials at its Marriott, Renaissance and Courtyard branded hotels, from Costa Rica to Monaco, Vienna to Paris, Ft. Lauderdale to Boston. With more than 3,000 locations worldwide, there is a Marriott hotel to fit all your travel needs. Visit http://www.marriott.com/specials and search by city or hotel name. A sampling of specials:
Escape Family Eco-Cation Costa Rica Adventure
Families that play together, stay together. Enjoy ecological wonders of Costa Rica at Los Suenos Marriott Ocean and Golf Resort and its surrounding rainforest. Choose from a variety of tours for you and your kids to explore the diverse flora and fauna of this beautiful country. This special travel package includes deluxe accommodations and breakfast, and a daily tour (choice of five tours) for two adults and two children. Also, a Tonka Bean Tree will be planted in your family's name as our continued effort to reinstate the Scarlet Macaw to its natural habitat. Prices begin at $294 per night, and the package is available from October through December 21, 2009 (with blackout dates over Christmas and New Year's). For information and reservations, go to http://www.marriott.com/sjols and enter promotional code ARN.
Holiday Gifts From The Florida Coast
Dreaming of a white sand beach? The Harbor Beach Marriott Resort & Spa and the Marco Island Marriott Resort & Spa are giving the gift of a free night on the beautiful beaches of South Florida. Stay two nights at the Harbor Beach Marriott Resort & Spa in Ft. Lauderdale and receive your third night free through December 31, 2008. Go to Marriott.com and enter promotional code B4F. Stay three nights at the Marco Island Marriott Resort & Spa on the West Coast of Florida and receive the fourth night for free now through December 25, 2008. Go to Marriott.com and enter promotional code HOL.
Freezin' Season, Island Breezin' San Juan Package
This holiday season, receive a $200 air credit and beat the winter blues while enjoying spectacular ocean views at the San Juan Marriott Resort & Stellaris Casino. This holiday travel special offer includes a $200 air credit and deluxe accommodations in a city view room. Rates start at $249 per room, per night, with a minimum stay of four nights. To check availability, log onto http://www.marriott.com/sjupr; to book, enter dates and promotional code W39 or call 1-800-228-9290. Offer available December 21 to January 18, 2009 with blackout dates from December 26-January 4). The rebate for the $200 credit will be issued/applied towards the final room bill.
Family Dream Package At The Renaissance Zurich
Discover the picture-perfect city of Zurich with an idyllic Christmas holiday with the family. The Renaissance Zurich Hotel offers the Family Dream package seven nights a week from December 18 - January 11, 2009, based on availability. Package includes one master suite with connecting door to one deluxe room and breakfast for two adults and children up to 12 years old. Package starts at CHF 399 per night. Book directly via phone (41 44 874 5600) or the Web, at http://www.marriott.com/zrhrn, under deals at this hotel; promotional code ZJ6.
Christmas In Vienna At The Courtyard By Marriott Wien Schoenbrunn
The Courtyard by Marriott Wien Schoenbrunn offers two different packages for celebrating Christmas in the Austrian capital. The Schoenbrunn Christmas Package offers a rate of €171,50 (per person for two nights), for check-in beginning on December 21 (minimum two nights), in a standard room including breakfast for two, 72-hour Vienna card for three days of local benefits and tickets for nearby Schoenbrunn Palace and its different attractions. The Christmas Dinner Package offers a rate of €189,50 (per person for 2 nights), between December 23 - 26, including two nights with breakfast for two, 72-hour Vienna Card and tickets to Schoenbrunn Palace and a three-course dinner on the 24th, 25th or 26th. To book, visit http://www.marriott.com/viecy and enter promotional code ARN. Black out on the 05th to 07th of December.
Park & Play At The Shelbourne Dublin
Over the holidays, stay and play at the landmark Shelbourne Hotel, a restored national treasure built in 1824 in Dublin city centre overlooking St. Stephen's Green. Two packages - Park & Play and Passion for Fashion are available at a per night rate of 132 Euros per person, from November 1 to January 31 (with blackout dates December 24-27). The Park & Play package includes deluxe room for two, complimentary valet parking. The Passion for fashion includes luxury Sherbourne shopping bag, soothing foot lotion and fluffy Shelbourne slippers to revive after a long day of shopping. To book, log onto http://www.theshelbourne.ie (promotional code XMA) or call the hotel directly at 353 1 6634500.
Shop 'Til You Drop At The Jw Marriott Bangkok
The JW Marriott is a perfect base for retail therapy, located just one and two stops respectively from major shopping centers such as Central Chidlom and Emporium and Siam Paragon. The package starts at Baht 9,000 for a double room, and includes deluxe room and daily breakfast for two, a blissful 45-minute foot massage for two at JW's Health Club & Spa, complimentary suitcase plus butler service for packing, Sky Train Tickets (one ticket per person per day) shopping guides and discount coupons for Bangkok's major department stores. Available seven days a week from now through December 31, with minimum two-night stay. To book, http://www.marriott.com/bkkdt and enter dates and promotional code SHO.
Celebrate The New Camelback Inn: A Jw Marriott Resort
A Legend is reborn! The Camelback Inn has created more ways to relax, reenergize and reconnect with what inspires. Savor Chef Laurent Tourondel's renowned BLT Steak. Explore a world of rejuvenation at Arizona's most celebrated spa. Golf on palm-lined fairways. Socialize under the stars as juniper logs crackle in fire pits and a breeze rustles through Palo Verde trees. Rates start at $299 with a $100 nightly resort credit. Valid through April 30, 2009. For more information or to book the package, go to Marriott.com and enter the promotional code NEW.
Chic Shopping Package At The Paris Marriott Rive Gauche
With its "Chic Shopping Package," the Paris Marriott Rive Gauche Hotel & Conference Center invites you to make the most of the winter shopping season in Paris. Available from November 16 - January 3, the package includes a spacious Junior Suite for two, where a selection of gifts and a chilled bottle of Champagne await you; VIP shopping at Printemps, with limousine service, a VIP card with your name on it for 10 percent discount on purchases and 12% tax refund, a personal shopper and your purchases delivered to the hotel for hands-free shopping; dinner for two in the trendy R'Yves restaurant of the hotel, including a bottle of French wine with your meal. Package rates range from €499 to €565 per room per day for two people, with a minimum three-night stay. To book the package, visit http://www.marriott.com and insert promotional code SHO.
Munich Escape At The Munich Marriott
Located in the capital of Bavaria, close to the Munich city center, the Munich Marriott Hotel is promoting its new Thai Health Club "Himaphan" with its two-night luxury wellness relaxation package. The package includes deluxe accommodations and breakfast for two, 60-minute Swedish massage or facial treatment, personal gift and free use of the Thai Health Club. Package is available through February 2, with prices from €218 - 671, per room for two nights. To book, visit http://www.marriott.com/mucno
and enter promotional code ZJ1. Package available seven days a week, with a limited number of rooms available for this promotion.
Escape Culture Package At The Ghent Marriott, Belgium
Centrally located in one of the most beautiful historic cities in Belgium, the Ghent Marriott overlooks the Korenlei on the banks of the river Lys canal. The hotel is offering a three-night Escape! Culture package from December 12 - January 11, priced at just €399 per room for three nights. The package includes a standard quality room for two persons, a boat trip for two persons on the Rive Lys through the historical part of the city, two entrance tickets for the Design Museum, which focuses on 20th century design; and a Belgium beer and tapas tasting at the hotel's Poppi Lounge. Package valid seven days per week. To book, visit http://www.marriott.com/gnemc and enter promotional code E0N. Package also available for one and two nights.
Dining Experience At The Riviera Marriott La Porte De Monaco
Casting a serene reflection upon the Cap d'Ail harbor on France's Cote d'Azur, the Riviera Marriott La Porte de Monaco captures the spirit of Monaco. It's a magical place, where you can lose yourself in its fragrant breezes, profound beauty and international allure. For the holidays, the hotel is offering its Dining Experience package from November 1 - January 31, 2009. (with blackout date December 31) Package includes deluxe sea view room with terrace for two people, full American breakfast for two, three-course dinner for two (excluding beverages) in Brasserie Le Cap facing the yacht harbor. Prices begin at €222 single occupancy €272 double occupancy per night. For information and reservations, go to http://www.marriott.com/mcmcd and enter promotional code D60.
Find The Music In You With A Special HOLIDAY TRAVEL SPECIAL IN BOSTON
To celebrate the holiday season and the New England regional premiere of the smash hit, Disney High School Musical 2, the Boston Marriott Peabody Hotel is now offering a family theater package. Available December 18 - January 11, this VIP package includes a deluxe guest room (with cookies delivered upon arrival), plus two, three or four tickets to the much anticipated Disney show, which will be produced on the North Shore Music Theater's famous main stage. The Boston Marriott Peabody Hotel's Disney High School Musical 2 package rates range from $216 to $333 per room, per night, and are based on availability at the time of reservation. Seven day advance reservations are required. Tax and gratuities are not included. Blackout dates and other restrictions may apply. For more information or reservations, call (800) 834-6418 or visit http://www.marriott.com. Please refer to promotional code CUE.
Explore The Splendors Of Ancient Cairo
Book two nights or more at the five-star JW Marriott Hotel Cairo and get a half-day tour around Cairo. The Splendor of Ancient Civilizations package includes deluxe accommodations for two, breakfast buffet at the Mirage café, and a half-day Cairo tour, where you can see the Islamic Cairo and Khan El Khalili, Egyptian Museum, Old Cairo and Citadel, the Pyramids and Sphinx at Giza. Package price starts at $329 per night, with a two-night minimum stay, through December 31. The resort is nestled in the prestigious Heliopolis district just 10 minutes from the airport and close to attractions, with on-site health club and Mirage City Golf Club at the JW Marriott Hotel Cairo. To book, visit http://www.marriott.com/caijw, under "Deals at this Hotel" and enter promotional code ARN.
Editors Note: To search and download images, go to http://portal.digilink-inc.com/marriottpr. Username: int02, password: int02. Search by brand, hotel name or keyword. To download, click on the solid arrow icon, save to your computer and open zip folder to get image.
Terms and Conditions Apply. Visit http://www.marriott.com or call 1-877-Marriott.
###