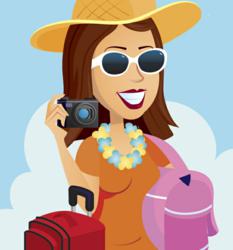 Natick, MA (PRWEB) November 13, 2012
Traveling during the holidays can certainly be challenging, especially when you are traveling with kids. With the peak of holiday family travel starting in less than two weeks, Family Travel Magazine, an online magazine that provides families with ideas on where to go on vacation, has announced their top four tips to help ensure a stress-free holiday vacation.
Tip #1: Leave lots of time
Airports face record traffic during the holiday season, so arriving with extra time can help make sure your trip stays stress free. If you are driving for your trip, remember that traffic will cause your trip to take much more time than it usually would.
Tip #2: Pack a first aid kit in case anyone gets sick
With all of the germs in airports and at family gatherings, it's likely that someone will get sick. Pack a first aid kit with a thermometer, Children's Advil or Tylenol, Sudafed (especially since it's difficult to purchase this in a hotel gift shop), and adult painkillers so you won't have to search for a pharmacy on your trip.
Tip #3: Check the weather along your route
Most families make the mistake of only checking the weather at their destination, but if you are road tripping, or have a flight layover, make sure you check the weather along your whole destination so you are prepared if you need to make a detour.
Tip #4: Get your car checked out
If you are road tripping, you can save yourself some hassle by getting your car checked out. Small things like properly inflated tires and new windshield wiper blades can really improve your road trip experience.
Family Travel Magazine's editor and publisher Jodi Grundig is available to discuss any of these tips further.
About Family Travel Magazine: Passionate about promoting family vacations that help a family bond, Family Travel Magazine reviews hotels, destinations and attractions and reveals special deals and promotions at hotels across the U.S., Canada, and the Caribbean. Because mom and dad sometimes need to get away alone, the magazine also features destinations for parents only. Jodi Grundig, mom of two with an MBA and ten years in corporate finance, is a sought-after brand ambassador, travel writer, mom blogger (since 2007) and brand consultant. An avid traveler and travel blogger, Jodi has written about some of North America's best family hotspots, including Hawaii, Phoenix, Virginia Beach, Walt Disney World, and the Cayman Islands.