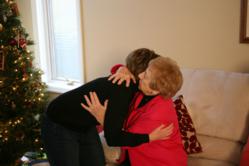 The two nationally recognized co-sponsor organizations are familiar with the many issues that older adults and their families face
Omaha, NE (PRWEB) November 03, 2011
Adult children who return home for the holidays may encounter the unexpected: chaos instead of order. Seniors who once welcomed family to a festively decorated house and wonderful meals may no longer be able to manage those plans. Or perhaps the signs are more subtle, such as a couple of unpaid bills or a lack of interest in appearance. The holidays are a good time for family caregivers returning home to tune into the signs that an older family member or friend may need extra help to remain safe at home.
To learn more about those signs friends and family caregivers can register for the free Home for the Holidays web conference, moderated by a representative from the Home Instead Senior Care® network, hosted by the American Society on Aging (ASA), and co-sponsored by the National Family Caregivers Association (NFCA) and the National Alliance for Caregiving (NAC).
The hour-long web conference will be available in the U.S. and Canada, and offered on two dates and times: Tuesday, Nov. 15, at 1 p.m. Eastern Time, or Monday, Dec. 5, at 8 p.m. Eastern Time.
"It's easy for busy family caregivers to overlook the subtle signs that a senior loved one needs assistance," said President and Chief Operating Officer (COO) Jeff Huber of Home Instead, Inc., franchisor of the Home Instead Senior Care network of independently owned and operated franchise offices. "But during the holidays, when many return to their childhood homes, the difference between your last visit and now can highlight those red flags," Huber noted.
"Indicators of potential trouble may include spoiled food in the refrigerator, piles of clutter such as magazines and newspapers, or episodes of confusion and disorientation," he said.
The web conference will be moderated by Director of Strategic Alliances Mary Alexander of Home Instead. Alexander is a family caregiver and a Certified Senior Advisor (CSA).
The two nationally recognized co-sponsor organizations are familiar with the many issues that older adults and their families face. Gail Hunt, president and CEO of the National Alliance for Caregiving (NAC), said the holidays, when everyone gathers, sometimes bring to light problems. "If you're a long-distance caregiver perhaps you haven't seen your loved one in a while. You may notice some real differences since a few months ago. The hometown caregivers might not see the signs because they're so busy and the changes are so subtle."
Countering senior resistance to assistance can be a challenge, added Suzanne Mintz, president and CEO of the National Family Caregivers Association (NFCA). "Family caregivers must recognize that their parents are adults and – unless there are cognitive or emotional problems – they can make their own decisions. We do not and should not become our parents' parents. We must remember we will always be their children."
The web conference will feature information about countering senior resistance to assistance as well as resources that can help family caregivers and senior care professionals.
ABOUT HOME INSTEAD SENIOR CARE
Founded in 1994 in Omaha by Lori and Paul Hogan, the Home Instead Senior Care® network is the world's largest provider of non-medical in-home care services for seniors, with more than 900 independently owned and operated franchises providing in excess of 45 million hours of care throughout the United States, Canada, Japan, Portugal, Australia, New Zealand, Ireland, the United Kingdom, Taiwan, Switzerland, Germany, South Korea, Finland, Austria, Italy and Puerto Rico. Local Home Instead Senior Care offices employ more than 65,000 CAREGiversSM worldwide who provide basic support services – assistance with activities of daily living (ADLs), personal care, medication reminders, meal preparation, light housekeeping, errands, incidental transportation and shopping – which enable seniors to live safely and comfortably in their own homes for as long as possible. At Home Instead Senior Care, it's relationship before task, while continuing to provide superior quality service that enhances the lives of seniors everywhere.
# # #