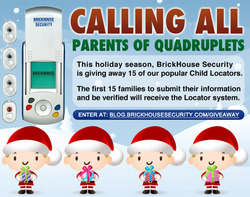 Holiday shopping and other trips to crowded places make it especially challenging to keep an eye on one's kids
New York, NY (Vocus) December 4, 2009
BrickHouse Security, a leading provider of safety and security products to major law enforcement agencies including the NYPD, FBI, and the LA County Sheriffs, announced that it is giving away thousands of dollars worth of Child Locator systems to parents of quadruplets in its Free 4 Kids promotion.
"Holiday shopping and other trips to crowded places make it especially challenging to keep an eye on one's kids," said Todd Morris, BrickHouse Security CEO. "We know from parents children how helpful our Child Locator is to them when they're shopping or traveling. To help, we're making an early present to families--and with four tags included who needs help more than parents of quadruplets?" he added.
"The BrickHouse Locator has been huge help to my family," said customer Jennifer Finger. "Around the holidays when I have to brave the crowds with my small children I'm grateful to have my BrickHouse Child Locator close at hand."
Capable of Tracking up to 24 Children
The BrickHouse Child Locator, targeted toward parents of smaller children, uses RFID technology to help parents locate their children in malls, airports, playgrounds, and other public places; it also sends an alert should a child stray too far. The BrickHouse Locator system comes with four tracking tags, thus the choice of quadruplets as giveaway recipients. However, the system can support families with a single child, or up to 24 with a purchase of units beyond the four included. For parents of teens and older children, the company also offers GPS tracking products at http://www.brickhousesecurity.com/gps-car-tracking-vehicle-logging.html
Recently featured in Duracell's recent "Power to Protect" campaign, the Child Locator is currently available at a special holiday price of $149, marked down from its standard price of $169. Information on the BrickHouse Child Locator can be found here: http://www.brickhousesecurity.com/child-locator.html.
Giveaway Entry
To be considered as a recipient of the Free 4 Kids giveaway, parents should visit blog.brickhousesecurity.com/giveaway to upload photos of the quadruplets by Wednesday, December 16th; BrickHouse Security will not publish the photos unless the family is chosen to as a giveaway winner and then not without the parents' permission.
The company will announce winners after verification via Facebook and Twitter on December 21st.
About BrickHouse Security
BrickHouse Security provides security and surveillance products to consumers, businesses of all sizes including roughly half of the Fortune 500, and more than 500 local and national government agencies such as the NYPD, LA County Sheriffs, and the FBI. The company and its products have recently appeared on the CBS Early Show, NBC's Today Show, ABC's Good Morning America, Fox News, and the Associated Press.
BrickHouse Security offers a wide range of leading-edge safety, protection, and counter-surveillance products to help its customers protect what they care about most. Its industry-leading experts seek to be the go-to source for all of its audiences' needs by providing timely information through the company's informative blogs and content, and by identifying, developing, and selling quality products that represent the best and the latest in safety and security.
The company is headquartered in New York City and serves a diverse US and international client base.
Media Contact
Jason Lazarus
Director of Marketing
BrickHouse Security
646-253-9131
jlazarus(at)brickhousesecurity(dot)com
###