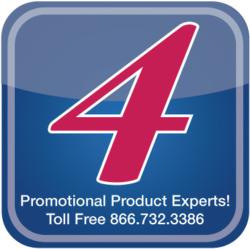 Essex, CT (PRWEB) October 17, 2011
It may only be mid-October but the promotional product experts at 4AllPromos are already preparing for the holiday season. A study released this week by the Advertising Sales Institute reveals that companies who give employees holiday gifts have a more motivated and productive workforce. In fact, 75 percent of those polled admitted holiday gifts improved their morale.
There are so many gifts that are perfect for the holiday season. While customers may receive more basic promotional products to garner affection, creative and more thoughtful gifts are best for employees. Splurge on gourmet chocolates, candy and snacks so employees can snack in the office. Or maybe give your caffeine dependent crew a gift card to Dunkin Donuts or Starbucks to start the day off right on the way to the office. Discounts on company products or services are also a great idea to help remind employees why it is they love the company and what it does for customers. Or maybe throw a holiday party with a fun goodie tote bag full of fun products. Close to 33 percent of survey takers said that holiday gifts actually increase productivity which can be difficult during the slow winter months.
Custom imprint, embroider or engrave items to add that special touch to holiday gifts. Items with employee's names or initials will help them claim their territory in the office and add that special touch to even simple items like a mug, apparel or a nice professional pen or portfolio. Have an office photo contest and put the winning photos in a hanging calendar for employees to enjoy year round. Those surveyed said they kept gifts for six months or more. Quality promotional products are a great way to advertise. Outfit employees with items that can be used every day that will be seen around town in the grocery store, at school, and on the road and create buzz by branding employees.
It's important to take care of both employees and customers during the holidays. This week's survey also revealed that companies or clients who received gifts from a business partner were more likely to do repeat business. 4AllPromos has a large selection of corporate gifts including professional writing sets, leather portfolios, gourmet snacks and apparel. Surprise clients with thoughtful custom imprinted holiday themed products and don't forget to include a hand written note in appreciation of the business.
The holiday season is about giving and what better way to celebrate employees and customers alike than with custom imprinted promotional gifts. Unite customers and employees with special holidays gifts and help boost morale, productivity and appreciation.
4AllPromos has plenty of ideas for fun, special and meaningful holiday gifts for employees. Remember to order items sooner rather than later to avoid the holiday rush. Not sure what kind of special items we stock or what kind of item is right for employees or just need help brainstorming or pricing out? Call one of our product specialists toll-free at 1-866-732-3386 to discuss options, imprinting and pricing.
###