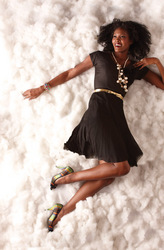 DownEast Basics continues to grow as a favorite place to shop due to its boutique quality, unique styles at a fraction of the price
Salt Lake City, UT (Vocus) October 26, 2010
DownEast Basics, a high-style, low-price fashion retailer, presents the 2010 holiday gift guide to ring in the official start of the holiday shopping season. The new, 60-plus page catalog offers shoppers style and savings at every turn – everything in the gift guide is under $60. Shoppers can find something for everyone on their list – including themselves – with accessories like the jewelry, totes and scarves featured in the "Silver Belles & Bows" and "All That Glitters" sections. Also find a full new line of dresses and embellished skirts that make any occasion special at the holidays.
"DownEast Basics continues to grow as a favorite place to shop due to its boutique quality, unique styles at a fraction of the price," said Andrea Updike, Product Development Director for DownEast Basics. "This year's holiday line features amazing mix and match pieces in beautiful shades of grey, orchid and cream, with styles that can be dressed up or down with ease. In particular, the line's embellished skirts and tops offer a number of versatile wearing options, from formal holiday looks to casual dressing that mixes more feminine pieces with menswear, military and distressed styles. It was a lot of fun designing this line! There are many options and price points for every woman and girl on your gift list!"
For happy and easy gift-giving this season, DownEast recommends wrapping up the following selections:

Stuffing a stocking or buying for a "Secret Santa" at work? Flip no further than the first two pages of the guide with its "All that Glitters" and "Silver Belles & Bows" sections featuring stylish gifts like the Mini Crystal Bead Earrings ($6.99), Fabric Covered Bead Necklace ($9.99) and Chic & Shimmer Scarf ($9.99). Give these items separately or mix and match them and "wrap" into a tote like the small and formal Single Rose Clutch ($14.99) or everyday Pleat and Pucker Bag ($22.99) for a colleague's gift or something special for a child's teacher.
Choose something for Mom from DownEast's collection of stylish, fashion- forward cardigans like the Bon Nuit Cardigan (long sleeve with ruffle front detail - $36.99) or the Box Pleat Cardi (3/4 sleeve button-front cardigan with box pleat neckline detail - $36.99). She'll wear these year round!
Where would any woman be without her girlfriends? If anyone understands style it's sure to be them! Show appreciation for both style and friendship with the vintage lace Tea Time Skirt ($32.99) or the flowering Bouquet Skirt (wide waistband features appliqué flowers in self fabric on side hip - $36.99). Unsure of an exact size? Give a skirt that will fit like a charm and show you care about design with the Tiny Tiers Skirt (style secret: elastic waistband), which features tiers of tulle ($34.99).
Dress little girls up for some fun this holiday with DownEast's "Very Merry Mini Gift Guide for Girls," featuring the Winter Wish Dress ($29.99), Pretty Party Dress ($26.99) and Long Sleeve Jane Tee ($8.99) among several other cute pieces for the little ones.
Now that the DownEast Holiday Gift Guide has shoppers ready to relax for the rest of the season – with their shopping done under budget and ahead of schedule – it's time to gift for the one person on most shoppers' lists who's sure to know exactly what they want: themselves! This holiday season, DownEast dresses make any occasion "special" and give a reason to dress to the nines while staying in comfort and on budget. Look amazing at that office party or holiday school play with the Little Black Dress ($38.99) or the Etiquette Dress ($39.99). And, keep that holiday cheer from your guilt-free shopping all year long with DownEast denim! Completely new styles out this season include the Soul Sister Skinny Jeans ($52.99) and Miss Slim Skinny Jean ($44.99) to name a few.
To stay up-to-date on holiday styles, promotions and special sales, DownEast recommends fans follow the DownEast Facebook fan page, as well as sign up for special email offers at DownEastBasics.com.
About DownEast Basics
DownEast Basics (http://www.downeastbasics.com) offers high-design looks on a bargain basement budget for today's cost-conscious yet fashionable consumer. The DownEast Basics clothing line features smart layering pieces and wardrobe enhancing garments so you can embrace the American classic look with your own sense of style.
Shop for cute tops, modest dresses and accessories for women and girls at DowneastBasics.com.
The fast-growing retailer operates nationally with its Basics line via its online store in addition to 41 locations throughout the West including Utah, California, Idaho, Arizona, Washington, Nevada and Wyoming.
# # #