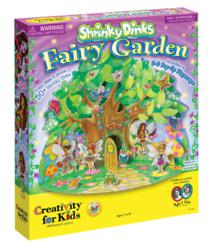 Cleveland, Ohio (PRWEB) November 07, 2011
ASTRA Retailers selected the Shrinky Dinks® Fairy Garden kit, manufactured by Creativity for Kids, for the 2011 "Best Toys For Kids" Award. This kit now shares recognition with other toys recommended by ASTRA as top products for encouraging healthy and fulfilling play for children. When parents shop for the holidays, they can do so with confidence that these toys will both engaging and fun for their children.
For years, Shrinky Dinks® have captivated kids of all ages (adults too!) because it's just so much fun to do. The Shrinky Dinks® Fairy Garden kit combines making Shrinky Dinks® charms with pretend play. This kit includes the authentic Shrinky Dinks® film in a variety of designs popular with girls who are into fairies and forests. The charms are pre-cut for ease of use, and the kit even includes a sharpener for the Faber-Castell EcoPencils. These pencils add an environmentally friendly component as they are made from reforested wood.
This award is particularly meaningful, as Kathleen McHugh, President of ASTRA, points out,
"ASTRA's top picks are different. They are made by neighborhood toy store owners around the country who vote on the selections based on watching kids play in their store all day long and talking with parents."
"Our retailers, who are also play experts, selected Shrinky Dinks® Fairy Garden because it represents the kind of toy they want in their locally-owned stores—a product that's not about what the toy can do, but rather about what the child can do with the toy," continues McHugh. Shrinky Dinks® Fairy Garden gives kids a play experience that challenges their imagination, creativity, and other skills.
To launch the holiday shopping season with community-minded fun, local, independent toy stores across the country will be celebrating the joy of play during Neighborhood Toy Store Day on November 12, 2011. ASTRA Retailers will host special events for children at their stores, to increase awareness that local toy stores are vital members of the community. Learn more about what's happening in your neighborhood at http://www.astratoy.org.
About Creativity for Kids
2011 is a special year for our company as we celebrate 35 years of Creativity for Kids! We are proud to consistently provide a quality experience in all areas of business, particularly in developing innovative, high quality arts & crafts products for children. Our products are available all over the world, giving children the opportunity to create, pretend, and play in ways that encourage self-expression and build self-esteem. All Creativity for Kids products are fully compliant with current U.S. toy safety standards.
About the American Specialty Toy Retailing Association (ASTRA)
With more than 1000 members, the American Specialty Toy Retailing Association (ASTRA) is the largest association for companies in the toy and children's products arenas. ASTRA and its member companies promote the growth of the toy industry by delivering products that serve children's best interests. Because Community Matters, ASTRA members thank you for shopping locally.
###