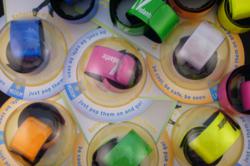 Gifts for people and pets that are fun, affordable and keep your loved ones visibly safe all year long.
London (PRWEB UK) 1 December 2011
How about giving the gift of fun, fashion and safety? Vedante's CEO, Barbara Kantor, recommends 3 affordable, fashionable and fun gifts this holiday season that keep loved ones safe all year.
1. POP BANDS™: Available at Amazon UK. The Company's best-selling POP BANDS, which pop on like slap bracelets, use new technology and bright colors to reflect up to 450 meters, while similar products only reflect 60-180 meters. Yellow and white POP BANDS are reflective up to 450 meters. Vedante's POP BANDS make great stocking stuffers and office gifts.
They have been developed in partnership with 3M. POP BANDS are available in a wide array of fun, fashionable colors and provide 360° visibility at night when worn on the arms, legs, baby carriages, purse straps and just about anywhere else imaginable including being worn at night clubs and sporting events.
They are made with a special retro-reflective technology; POP BANDS are designed to reflect a large amount of light directly from a light source such as a car's headlights. The best part is they reflect in a wide array of colors (White, Yellow, Tangerine, Pink, Blue, Green and Red). The suggested price is £12.99 for a pair of size medium (30 cm) or size large bands (38cm).
2. Super Reflective Break-away Cat Collar: Give pets the gift of being fashionably visible. Vedante's cat collars are designed using a proprietary patent-pending technology that provides a level of reflectivity and durability that well exceeds most competitors. The vast majority of products only reflect from 60-150 meters. Vedante's cat collars reflect up to 365 meters.
Because they reflect rather than generate light, the collars require no batteries that could get weak or fail. In addition, cats and dogs do not look like a flashing traffic light. They are visible only when needed.
The breakaway feature allows the collar to stretch and\or break when a cat is stuck to a fence or other object. The collar comes with a bonus glow in the dark tag that can be personalized by writing the pets name and contact information in permanent ink.
Just as with the Vedante POPBANDS™, the pet accessories are made with highly reflective 3M Scotchlite, which glows brightly when light hits it (such as from a car's headlights). The cat collar is very affordable at £9.05 and is available in Silver, Gold and Red.
3. Reflective Dog Collars: The reflective dog collars use the same patent pending technology as the cat collar and are available in Silver and Gold. This highly reflective collar will alert motorists of pets. The collars reflect light so there is no need for batteries that run out or fail. It comes with a bonus glow-in-the-dark tag and retails from £8.40 to £12.95.
As a fun side note, the dog collars can be worn by people and are trendy for holiday evenings.
Vedante's POP BANDS, cat collars and dog collars are available on Vedante's e-commerce website, Amazon.com in the USA, Amazon UK and select retailers (http://vedante.com/shop.html)
About Vedante:
CEO Barbara Kantor founded Vedante in 2006. Barbara's inspiration came during an evening walk when she witnessed a pedestrian being struck by a car. The pedestrian, in a cross walk, was unaware of the driver's inability to see her. Deeply impacted by what she saw, Barbara delved into research on safety and visibility and then studied reflective products that were currently on the market. Barbara's research and her 25 year background in fashion design led to her development of Vedante reflective safety products that are attractive and easy to use.
Vedante is a company committed to saving lives by increasing nighttime visibility and decreasing accidents through education, awareness campaigns, and "fashion that reflects well on you."
Vedante has consistently ranked among the top 10 best sellers in the United States at Amazon.com in its respective categories for super-reflective POP BANDS and pet accessories.
Vedante has consistently ranked among the top 10 best sellers in the United States at Amazon.com in its respective categories for super-reflective Pop Bands and pet accessories.
To find a local stockist visit http://www.vedante.com as well as at Amazon UK
For safety tips, deal alerts and fun stories follow Vedante on:
Facebook: http://www.facebook.com/Vedante
Vedante Pet Products on Facebook: http://www.facebook.com/Vedante.Pet
Twitter: http://twitter.com/VedanteFDN
###