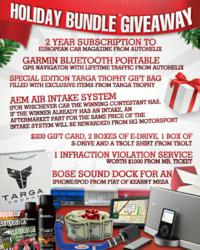 Orange County, CA (PRWEB) December 29, 2011
Fame, fortune and great prizes await the winner of AutoHelix's Holiday Bundle Giveaway on Facebook. The holiday giveaway is being held in honor of the exclusive Targa Trophy New Year's Event, scheduled to take place in San Diego, CA on Saturday, Dec. 31, 2011.
The Targa Trophy Rally is one of the most premier lifestyle road rallies in the US featuring the most remarkable sports cars in the world. The New Year's Eve rally will involve a driver and co-pilot to reach various checkpoints before reaching the final destination at the Andaz Hotel in San Diego, CA. The unique event will end in a special one-of-a-kind New Year's celebration for participants at Ivy Nightclub. Vehicles will include select high performance and luxury European cars, Japanese imports, classic exotics, muscle cars and unique one-off sports cars.
AutoHelix has collaborated with an impressive line-up of companies for the contest. Prizes for the Holiday Bundle Giveaway include a two-year subscription to European Car Magazine and a Garmin Bluetooth portable GPS navigator with lifetime traffic from AutoHelix. The winner of the giveaway will also receive a special edition gift bag filled with exclusive items from Targa Trophy.
HG Motorsports is providing the giveaway winner with an AEM air intake system for their individual vehicle, or an aftermarket part of comparable value if the winner already has the intake system. Those who enter the contest will also be vying for the chance to win a $200 gift card, two boxes of E-Drive, one box of S-Drive and a Tbolt shirt from Tbolt. Additional prizes include one infraction traffic violation service from Mr. Ticket, and a Bose sound dock for the iPhone and iPad from Fiat of Kearny Mesa.
For more information on the Holiday Bundle giveaway visit: http://athlx.me/sWBqXt
About AutoHelix
AutoHelix's mission is to bridge the gap between manufacturers and consumers. With the development of the website nearly complete, AutoHelix will be the most innovative social shopping network on the web for automotive aftermarket procucts. Featuring an entirely new way in which automotive enthusiasts can shop for products online all while networking with friends. The site features powerful shopping tools, social profiles, a web engagement system, mobile applications and many more interactive features. Request a beta invitation by visiting the AutoHelix website at http://www.autohelix.com.
The site can be reached via email at info(at)autohelix(dot)com.
###