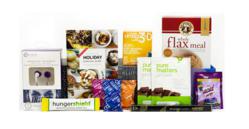 They not only see the value and uniqueness of our product, but they recognize the quality of the ingredients.
(PRWEB) October 10, 2012
With the holidays come candy baskets, banquet-style meals and cocktail parties. It is without a doubt one of the most challenging times of the year to stick with a healthy eating plan. The result? Many find it difficult to resist temptation and the consumption of extra calories often leads to weight gain.
Research has shown that Americans gain anywhere from one to ten pounds of body weight during the holidays, depending on current weight status. This trend has highlighted the need for innovative products and solutions that can help people stay on track during this difficult time.
HungerShield, provider of portable appetite control drink mix packets, is pleased to be a part of KLUTCHClub's KLUTCHwomen October Box. This "Surviving the Holidays" package is filled with select health and wellness products, all designed to help members avoid holiday pitfalls.
KLUTCHclub is a monthly subscription service that sends a hand-picked and "themed" box of holistic health, fitness and wellness products right to subscribers' doorsteps, making it easy to incorporate healthier choices. Members learn about new, niche brands and products that suit their lifestyles, and get access to exclusive deals and offers from companies that share their values. Each box is full of $50 worth of products, but only costs subscribers around $17 each.
HungerShield was selected, according to KLUTCHClub, because "holiday weight gain is inevitable, but this can help you skip that second slice of pie." Subscribers are reminded that it "fits perfectly in your purse," and are instructed to drink it before meals to avoid consuming too many calories. HungerShield is a convenient solution, developed by dietitians, for individuals looking to control their appetite naturally, especially during this time of year.
"We were so happy to work with KLUTCHClub because we really believe in their vision and mission to make a healthy lifestyle convenient and easy," says Dafna Chazin, MS, RD, HungerShield Co-Founder. "They not only see the value and uniqueness of our product, but they recognize the quality of the ingredients. As women entrepreneurs themselves, they are also extremely supportive of women-owned businesses that align with their mission."
HungerShield stick packets will be distributed nation-wide via KLUTCHclubs boxes beginning October 15th and will also be offered at a special price for members online.
About HungerShield
HungerShield is an innovative appetite control drink mix created by four registered dietitians, Elizabeth DeRobertis MS, RD, CDN, CDE, Heather Zeitz RD, CDN, Elizabeth Pecoraro MS, RD, CDN and Dafna Chazin MS, RD, CDN. HungerShield is the only product on the market designed specifically to curb appetite through a unique blend of high quality and natural ingredients, including protein, fiber and probiotics. It is also the only product in this category that was created by healthcare professionals and can work with any diet plan on the market. For more information, visit http://www.hungershield.com. You can follow HungerShield on Twitter @HungerShield and on Facebook.