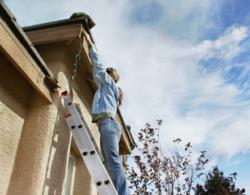 Oklahoma City, OK (PRWEB) November 27, 2012
Falls are the most common cause of fatal injuries and ladders. The risks rise even more as home owners climb ladders and scale rooftops for holiday decorating. Simple safety precautions can be taken to prevent injuries and possibly even fatal falls this holiday season. The SafetySkills Ladder Safety course is intended to assist in meeting OSHA Standards 29 CFR 1910.24 – 27 and also covers the training requirements outlined in 29 CFR 1926.1060. The online safety training course, while designed for the workplace also covers topics that can apply to off the job scenarios as well. The course covers the nature of fall hazards; the correct procedures for erecting, maintaining, and disassembling the fall protection; and the maximum intended load carrying capacities of the various types of ladders. This course can also fulfill the retraining requirement of the ladder standard. Learners will be able to recognize the hazards of ladder use, the different types of ladders, inspection requirements for ladders, and the rules of ladder use.
The SafetySkills® team has designed, developed and deployed powerfully easy online safety training programs with nearly 300 affordable courses. SafetySkills® courses provide a front of the seat safety training experience. Courses include 3D animations, simulations and complex navigation structures designed to demonstrate the concepts, engage the learner and ensure comprehension and retention of the course materials presented. Courses include topics for on and off the job safety training. SafetySkills has flexible training options for individuals, small companies and large corporations. For more information, please visit us at http://safetyskills.com/.