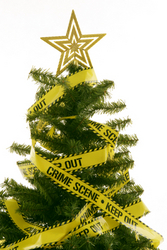 Burglars like the holidays just as much as the rest of us but chiefly because it's an opportune time for crime
Cambridge, MA (Vocus) November 24, 2010
The holiday season has historically seen increases in property crimes like home invasion. Burglars are more likely to find gifts stored in your home just before and right after Christmas. Knowing what to do when a burglar strikes can save your life, keep your kids safe, and boost the chances of recovering stolen belongings.
SimpliSafe Inc. the leading online retailer of home security systems shares this 7 point safety plan for the holidays.

Immediately call 911.
Wait outside the home until the police arrive, preferably with a neighbor or inside a locked car.
Do not enter the home until the police arrive. This reduces the chances of a potentially deadly confrontation with a surprised burglar.
Do not touch anything until the police arrive. Remember, the home is now a crime scene. Forensic evidence is vital to police investigations. Burglars are often repeat offenders and can be found in police databases using finger prints found at the home.
Create a detailed list of stolen property with the values of the stolen items and provide it both to the police department and property insurance company.
Take photographs of any property damage for insurance records.
Be proactive. Don't let your home become a Christmas Gift for burglars. Install a SimpliSafe burglar alarm today, and feel safe in minutes for a fraction of the cost other companies charge.
"Burglars like the holidays just as much as the rest of us but chiefly because it's an opportune time for crime," says the National Crime Prevention Council. Home break-ins can cause trauma and upset for months afterward.
Crime preparedness offers its own reward; increased peace of mind.
About SimpliSafe Inc.
SimpliSafe is a simple, secure and complete do-it-yourself security system. Using entirely wireless components, the alarm system can be easily customized and installed by a homeowner or renter. SimpliSafe also provides nationwide alarm monitoring services for their security systems.
###