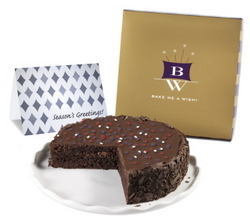 Being apart from family and friends during the holiday season can be difficult, however we hope that with the help of Soldier's Angels we will bring some joy to our troops this year
New York, NY (PRWEB) October 13, 2008
Finally, you can have your cake and eat it too! For many of our nation's heroes, December is just another month abroad fighting to preserve our freedom, rather then spending time with friends and family. Now, BakeMeAWish! and co-sponsor Soldiers' Angels are offering the "Freedom Holiday Cake," a unique opportunity to send a cake to family members, friends or clients while also showing a soldier that he or she is in our thoughts too. For only $75, you can send the Bake Me A Wish Freedom Holiday Cake to that special someone and the same cake will be sent to a soldier during the holidays.
The Holiday Freedom Cake is a delightful blend of peppermint and chocolate brownie, blanketed with thick, creamy fudge frosting surrounded by bittersweet chocolate shavings and an avalanche of mint chips sprinkled across the top.
This is an extraordinary gesture during the holidays. Bake Me A Wish will send a scrumptious 7" inch cake that will arrive guaranteed fresh in an elegant gift box to your friend and an identical delight will go to a soldier selected by Soldier's Angels. A beautifully designed "Season's Greetings" card with the American flag accompanies each package and honors our heroes with respect and warmth.
"Being apart from family and friends during the holiday season can be difficult, however we hope that with the help of Soldier's Angels we will bring some joy to our troops this year," said Josh Kaye, President of Bake Me A Wish. "We are proud that our company has sent over 5,000 cakes to our nation's soldiers abroad fighting on our behalf."
Soldiers' Angels is a non-profit organization that provides assistance to families of active duty soldiers, continuing support for veterans, and assistance to the wounded and families of the fallen. With more than 20 different teams and programs, the volunteer-based organization prepares care packages, personalized letters and comfort items to deployed American service members and their families to make a visible difference in their lives. Visit http://www.soldiersangels.org.
Founded in 2004, BakeMeAWish.com is a premiere on-line bakery offering handmade cakes based on award-winning family recipes and perfected by master pastry chefs. Using the freshest and most decadent ingredients available for cakes priced between $20 and $66 including shipping, the fresh and mouth-watering delights arrive beautifully packaged in a customized box with a personal note. To order your gourmet cake gifts or to inquire about Bake Me A Wish corporate loyalty programs, please call 888-987-9474. For additional information about Bake Me A Wish, or to schedule an interview with Josh Kaye, please call Amy Levy PR at (310) 444-5250.
# # #