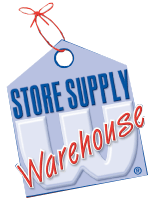 Our goal at Store Supply Warehouse is to be the one-stop-shop for every retailer.
St. Louis, MO (PRWEB) November 02, 2012
The holidays are always a busy time for retailers. According to the National Retail Federation, this particular holiday season is expected to reap sales 12 percent greater than last year. As sales increase, retail supplies may diminish at a greater pace. And so, Store Supply Warehouse encourages retailers to prepare for the holidays with more store supplies, and improved store displays for this coming holiday season.
Though holiday sales grew 5.6 percent in 2011, the prediction by the NRF for the 2012 season shows the greatest growth that the United States has seen since the recession began. Reasons for the optimistic prediction include an upcoming election, improved consumer confidence, and increases in home prices. While these are simply predictions, it's important for retailers to prepare for the potential growth.
"The holidays are always our busiest time of year," said Matt Wohlstadter, President of Store Supply Warehouse. "It's important to ensure that retailers are completely stocked with the supplies they need, especially when sales are expected to grow. The last thing retailers should worry about during the busy Christmas season is running out of the supplies that they use every single day."
This season, Store Supply Warehouse will feature a wide selection of holiday store supplies made specifically for the Christmas Season, like holiday shopping bags. Additionally, they stock a wide selection of everyday store supplies, like price tags, hangers, and store fixtures. Whether they are operating a jewelry store, thrift store, or grocery store, Store Supply Warehouse has everything retailers need to prepare for the hustle and bustle of the holidays.
"Our goal at Store Supply Warehouse is to be the one-stop-shop for every retailer. No matter what kind of retail store you own, we have the supplies you need. Moreover, you can purchase all of your supplies at the same time. It makes it easy on retailers to find their holiday fixtures, while also stocking up on their everyday-use items," added Wohlstadter.
According to the NRF, during the 2012 holiday consumers are expected to spend as much as $96 billion. Included in these estimates are sales from non-store, auto parts and accessories stores, discounters, department stores, grocery stores, and specialty stores.
For more information about Store Supply Warehouse or to request a catalog, please visit the website at http://www.storesupply.com.
About Store Supply Warehouse
Store Supply Warehouse was founded in 1994 and has since seen immense growth. Selling only retail fixtures and retail store supplies, which includes display cases, racks and shelving, shopping bags, hangers, pricing and tagging guns and mannequins, the distribution chain takes pride in its quick transaction process, and quality customer service. Products are available for purchase through Store Supply's 80-page catalog, which is updated and distributed three times a year, or online at http://www.storesupply.com. Guaranteed same day shipping is received on all orders placed before 3 p.m. The company's main office is located at 9801 Page Avenue, St. Louis, Missouri, 63132. Contact Store Supply directly at 800-823-8887 or by email at contactus(at)StoreSupply(dot)com.