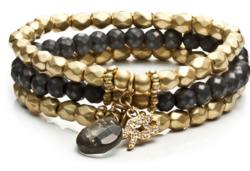 True to Kensico's mantra of a life filled with peace, joy, love and simplicity, each design focuses exclusively on bringing each state of harmony to life
Los Angeles, CA (PRWEB) October 20, 2011
Kensico Jewelry (http://www.kensicoboutique.com) is the go-to brand for personal and zodiac jewelry. Founded with a true appreciation of beauty and a passion for quality, Kensico devotes itself exclusively to personalized jewelry that is artfully made by a team of skilled craftsmen and women.
Kensico's holiday collection brings festive pops of colors with various combinations of grey agate, blue chalcedony crystal, pyrite stones and silver and gold Czech crystals, adorned with zodiac signs and faceted set crystal stones. The holiday collection is available for purchase at http://www.kensicoboutique.com/shop.php.
The spring 2012 collection from Kensico will include zodiac layered necklaces, zodiac wrap necklaces and bracelets, single personalized charm bracelets and personalized pendant necklaces.
True to Kensico's mantra of a life filled with peace, joy, love and simplicity, each design focuses exclusively on bringing each state of harmony to life.
Kensico will be showing the Spring/Summer 2012 collection in New York City November 2nd and 3rd. For press appointments, to view the collection or for samples for upcoming holiday gift guides please contact: Melissa Rappaport at RappAround Public Relations Consulting: 310.409.9947/ Melissa(at)RappAround(dot)com
###