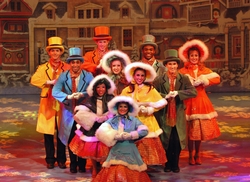 Best Time of the Year
Grapevine, Texas (Vocus) October 31, 2007
Back again and better than ever, Gaylord Texan's third-annual Lone Star Christmas event, featuring the awe-inspiring ICE! exhibit, provides a winter wonderland full of festive holiday events, activities, and displays for those of all ages to enjoy. Lone Star Christmas is presented by Coca-Cola and sponsored by Reliant Energy, Nissan, and Sara Lee.
Beginning November 15, 2007 – January 5, 2008, Lone Star Christmas at Gaylord Texan will dazzle visitors with decorated resort atriums featuring over 1.2 million holiday lights, magnificent electric train displays, a giant 40-foot tall Christmas tree, life-size Gingerbread House, and 15,000 sparkling holiday ornaments, just to name a few. Special guests of Lone Star Christmas will include Santa in his workshop, Mrs. Claus with live reindeer, and a variety of strolling holiday entertainers.
Lone Star Christmas Lighting Ceremony
On November 15th, 2007, the resort will kick-off Christmas with a very special Lone Star Christmas Lighting Ceremony. When the sun sets and the skies go dark, Gaylord Texan's 1.2 million twinkling lights will turn on. After the exciting ceremony, guests are invited to stroll through the resort atriums to enjoy the extraordinary holiday decorations; a variety of strolling entertainment including Santa, Mrs. Claus, live reindeer, toy soldiers, sugar plum fairies, and more; a life-size gingerbread house; and magical train sets. The event is complimentary to the public and those who spend $25 or more in a resort restaurant or resort retail store or purchase tickets to the resort's ICE! exhibit while there will receive validated self-parking.
Lone Star Christmas by the Numbers:
1.2 million: number of lights
15,000: number of holiday ornaments
40 feet: height of Gaylord Texan Christmas tree
2300 feet: length of garland
5600: number of wreaths
20: number of replicas of historic Texas buildings nestled amongst the Christmas trees
40: number of days that Santa will visit
The resort's popular ICE! exhibit will return this year with a variety of new ice sculptures including a train depot, igloo, gingerbread family, and walk-through Nativity scene. Most exciting will be this year's bigger and better three-level ICE! slide! An impressive additional third slide, measuring 5 feet taller and 15 feet longer than last year's slides, will curve around the interior of the exhibit to provide visitors with an even more exhilarating sliding experience.
All sculptures inside of the 14,000-square-foot ICE! exhibit are hand-carved from two million pounds of ice by visiting artisans from Harbin, China. To keep visitors warm and cozy in the exhibit, which is maintained at a wintry 9 degrees, oversized parkas will be provided. Following a stroll through ICE!, guests are invited to shop in the unique ICE! retail store and enjoy a complimentary cookie in the resort's Java Coast coffee shop.
ICE! ticket pricing:
Weekday pricing is available Monday – Friday. Weekend pricing is available Saturday and Sunday. Ticket prices include validated self-parking. Ticket prices purchased at the exhibit include a $3 transaction fee. Tickets purchased online at http://www.gaylordtexan.com do not include a transaction fee. ICE! is open from 10:00am – 9:00pm Sundays – Thursdays and 10:00am – 10:00pm on Fridays and Saturdays.
Adults (ages 13 to 54):
Weekday - $20.00 plus tax
Weekend - $23.00 plus tax
Military and Seniors (ages 55 and up):
Weekday - $18.00 plus tax
Weekend - $20.00 plus tax
Children (ages 4 to 12):
Weekday - $10.00 plus tax
Weekend - $12.00 plus tax
ICE! By the numbers:
2,000,000 pounds: amount of ice it takes to create ICE!
400,000: number of visitors who enjoyed ICE! in 2005 and 2006
5,000: number of ICE! blocks hand-carved and transformed into our winter wonderland
40: number of artisans from the City of Harbin (China) Tourism and Development Commission, who sculpt the attraction by hand
34: number of days needed to hand-carve the ICE! display
14,000: total square footage of the unique structure that houses ICE!
9 degrees: the temperature setting for the ICE! structure. The average temperature fluctuates from 14 to 20 degrees, but is always under freezing.
1,400+: number of LED lights frozen within ICE!
3: number of types of ice used in the construction of ICE!
"Best Time of the Year" Hholiday musical
Fantasy becomes reality in this spectacular holiday production, presented by Gaylord Texan at the Palace Theater in downtown Grapevine, which pays tribute to all of the warm and cozy sights and sounds of holiday wishes and memories.
Dates: November 30th and December 2nd, 6th, 9th, 11th, 13th, 16th, and 18th
Time: Weekday and Saturday shows begin at 8:00pm. Sunday shows begin at 3:00pm.
Pricing: $41.00 per person inclusive of show, resort self-parking, and roundtrip transportation to and from the Palace Theater
Location: The Palace Theater in Main Street in downtown Grapevine, just minutes from the resort
Transportation: Trolley service to and from this event from the resort will be provided by Gaylord Texan transportation
Lone Star Christmas Room package
There is so much to see and do this Christmas, Gaylord invites you to stay and experience it all with our special holiday offerings! Available November 15, 2007, through January 5, 2008, the Lone Star Christmas Room Package offers overnight luxury room accommodations for two adults and two children; breakfast in the resort's Riverwalk Café for two adults and two children; complimentary use of the Relache Spa fitness center for adults; complimentary self parking; resort fees and taxes. Pricing begins at $216 per room, per night and is subject to change and availability.
Want to go even bigger? Special add-ons to the Lone Star Christmas package include:

FLEX pass tickets to ICE! for two adults and two children for $68.00 inclusive of taxes and fees.
"Best Time of the Year" holiday production tickets for $41.00 per person inclusive of show and round-trip transportation to/from the Palace Theater in downtown Grapevine.
About Gaylord Texan Resort & Convention Center:
Gaylord Texan Resort & Convention Center on Lake Grapevine offers world-class facilities, 400,000 square feet of convention space and four-and-a-half acres of Texas vistas under signature atriums. Ideally situated on the shores of beautiful Lake Grapevine, Gaylord Texan is only six minutes from Dallas-Fort Worth International Airport. Gaylord Texan is a Gaylord Hotels-branded property owned by Gaylord Entertainment (NYSE: GET), a Nashville-based hospitality and entertainment company that also owns and operates Resort Quest International and the Grand Ole Opry. For more information, visit http://www.gaylordhotels.com.
For information on all Lone Star Christmas events or to make reservations, please visit http://www.gaylordtexan.com or call (817) 778-1000.
Media Note: Photos of the 2006 ICE! exhibit and Media Tours are available on request.
Media Contact: Martha Neibling, Public Relations Manager
817-778-1145
###